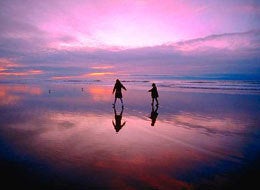 "Is love, sweet love..." is how the 1965 Hal David/Burt Bacharach song put it. It's an idea that is coming around again.
As a quick glance at today's headlines shows, we are a people and planet in distress. In fact, the problem that served as our collective wake-up call -- climate change -- is showing itself in the destructive weather of this unusual spring. "The Great Flood of 2008" has wreaked havoc in the American Midwest and in many other parts of the world.
The overwhelming nature of the problems we face often stops people in their tracks. As Al Gore put it in AN INCONVENIENT TRUTH, "Too often, people move from awareness to despair without stopping to act in between." So how do New Radicals -- that is, people who've discovered that the skills they acquired in their careers can be put to work on some of the world's greatest challenges (more in archived articles) -- decide what their course of action will be? How do they answer the question, "What does the world need?". They find something that captures their heart and fires their imagination.
For instance, Richard Derham wanted to do something to help homeless youth. Despite making a good living as a lawyer and management consultant, he yearned to roll up his sleeves and do something that really made a difference in the world.
The result is TurnAround Couriers, which hires troubled kids as bike couriers. "I wanted to prove that you can help people by running a profitable business, without calling yourself a charity, and without asking for grants," he says. Now that TurnAround is well established in Toronto -- their website proudly proclaims an ever-increasing number of homeless youth helped -- Richard is exploring ways to help others set up similar services in other urban areas.
New Radicals like Richard discover that the rewards of good works are immediate - we see that we are making a difference in people's lives. But did you know that the research shows that service does good in more ways than one? When we help others, we find meaning in what we do. Our self esteem grows. We live longer, stay healthier, and experience less stress. In one study of war veterans, those with altruistic tendencies are less likely to develop post traumatic stress disorder.
Mary Gordon's work illustrates this win-win principle. After more than thirty years in education, Mary realized that empathy -- the ability to identify with another person's feelings -- was the single most important skill we could teach children. It helps them immediately, and sets them up for life. "As empathy rises, aggression falls," Mary says.
She founded Roots of Empathy, a program where certified instructors visit primary schools to help students learn this valuable skill. Every three weeks, an instructor -- along with a parent and infant from the neighborhood -- sits on a blanket surrounded by students. In one class, a particularly aggressive and belligerent child was a concern. The instructor and teacher decided to place him right beside the baby. After the very first visit -- when the baby smiled at him -- this little boy's demeanor changed. What's more, the teacher and student began to see him from a kinder point of view, and he was incorporated into the social life of the class. Roots of Empathy is delivered in schools across North America, as well as in Australia and New Zealand.
Love, sweet love just might be what we need to save the world.