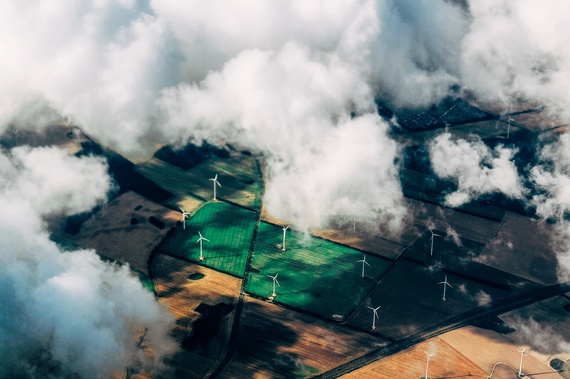 This Op-Ed was co-authored by Adrian Grenier, Mark Ruffalo, Reverend Lennox Yearwood, Vic Mensa, and Antonique Smith.
What the world needs now is DivestInvest Culture: A bold, collective pivot away from the old energy that no longer serves us towards the 100% renewable energy future that will let the people and the planet thrive. We are so excited to help launch DivestInvest Culture today - we are actors, musicians and artists moving our money from the past to the future.
We have to keep 80% of all fossil fuels in the ground to keep the climate safe for the people and the planet. To achieve this, we need an energy revolution and a political revolution. For decades, Exxon and the fossil fuel industry knew that burning fossil fuels leads to climate change, and could have damaging consequences. Instead of changing their ways, they used their amassed wealth to spread climate denial and buy political influence. But they didn't count on the people fighting back.
In just five years, the fossil free campaign, started by a band of determined college kids, has grown to a global movement recognized by leaders such as Paris climate chief Christiana Figueres as the most effective climate campaign of our time. American students launched the first fossil fuel divestment campaigns in August 2011, calling on their schools to divest their portfolios from coal. Today, almost 700 institutions - universities and pension funds, archdioceses and Islamic faith associations, individuals and sovereign wealth funds, global insurance companies and banks - have committed to divest over $5 trillion - from coal, oil, gas, and tar sands, in part or wholesale - recognizing that we can no longer afford to wreck the planet or allow the fossil fuel industry's lies to go unanswered.

It's not enough to divest either - we have to move the money from the past to the future, without delay. We can have a 100% renewable energy system based on wind, water and sun if we all take active steps toward it. More and more, investors are seizing the opportunities inherent in the great clean energy transition. Last year, total annual new investment in clean energy hit an all-time high at $329 billion. This is a 20 percent increase over the previous 5 years. Globally, renewable electric capacity has overtaken coal as the world's largest installed power source. In many parts of the world, electricity from wind and solar are already cheaper than fossil fuels.
These are just some of the reasons why we have personally committed to divest from fossil fuels and invest in our vision for the future - one that is built on clean, renewable energy and social equity. By moving money out of the problems and into the solutions, we have real power to accelerate the clean energy transition. DivestInvest is a tool available to everyone: It does not depend on who is president or what policy is in place. At a time when our nation's leadership on climate is uncertain, DivestInvest can be a gateway to profound and catalytic change.
Today, we are excited to announce the launch of DivestInvest Culture. We are actors, musicians, and artists divesting from fossil fuels and switching to clean energy investments, joining individuals, foundations, college, health, pension funds and religious endowments doing the same. Ethically, our investments shouldn't contribute to dangerous climate change. Financially, fossil fuel stocks are overvalued as most of their reserves cannot be burned. We can get good, safe returns while helping to build a new energy system.
In the next five years, we will:
Stop any new investments in the top 200 fossil fuel companies.
Drop coal, oil and gas from our investment portfolio by divesting from the top 200 fossil fuel companies.
Invest at least 5 percent of our portfolio into climate solutions defined as renewable energy, sustainable food & water projects, energy efficiency, clean technology and clean energy access.
is a direct action every citizen can take -- whether it's greening your own portfolio, moving your money to a bank that has divested, or pressuring your city, college or faith group to divest and invest. It's the ultimate democratic tool for accelerating the clean energy transition and beating back climate change. The People have the Power.
DivestInvest Culture is supported by actors, musicians, business leaders, and artists including:


Albert Hammond Jr., Antonia Salm, Antonique Smith, Biet Simkin, David Smith, Evangeline Lily, Isabel Lucas, Jeremih, Julia Jackson, Luke Weil, Malik Yusef, Manish Vora, Paul Haggis, Shiloh Fernandez, Vic Mensa
REAL LIFE. REAL NEWS. REAL VOICES.
Help us tell more of the stories that matter from voices that too often remain unheard.