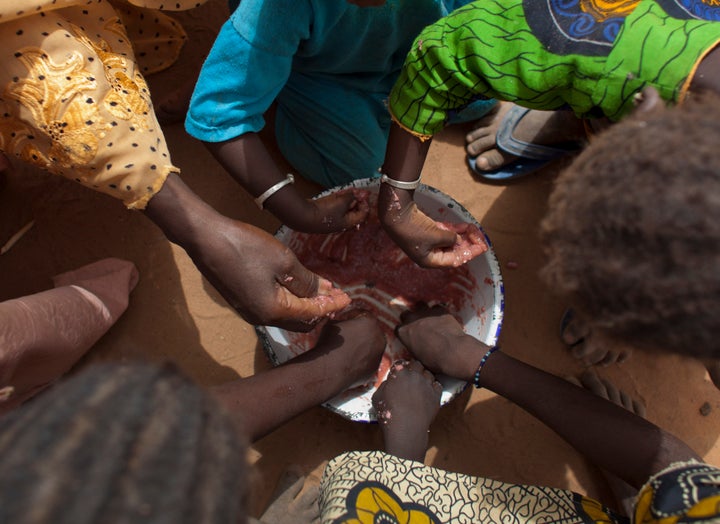 Hunger and malnutrition is the No. 1 risk to prosperity worldwide. The private sector is starting to invest in this generation-defining issue, while governments around the world, including our own, are struggling to keep pace.
This month, President Obama's Feed the Future initiative received a $1 billion pledge from U.S. organizations to address the root causes of hunger and poverty. This pledge came on the heels of a $4 billion pledge by more than 60 companies from Africa and other continents. As co-chairman of the Congressional Ethiopia Caucus and the Congressional Out of Poverty Caucus, I commend these pledges and look forward to working with the administration as they are implemented. These are short-term fixes, however, to the long-term issues of chronic food insecurity and malnutrition facing millions.
I witnessed the devastating effects of chronic hunger and malnutrition on low-income communities as a Peace Corps volunteer in El Salvador, where young children lacked the strength to fend off otherwise preventable diseases and life expectancy plateaued due to poor access to food. This was not unique to El Salvador -- according to the World Food Program, some one billion men, women and children around the world suffer from food insecurity.
It doesn't have to be this way. Unlike many issues that require decades-long efforts, combating global hunger and malnutrition is possible and within our reach. It will require action on several fronts, including food security, climate change and poverty alleviation, both at home and abroad and by both the private sector and governments around the world.
In this vein, the Obama administration should be lauded for launching the Feed the Future initiative with a $3.5 billion commitment in 2009 and for continuing the conversation in Congress. The Republican leadership, however, and House Republicans in particular, has failed to demonstrate the leadership that is absolutely necessary for spurring the world into action.
Republicans have slowed progress by cutting funds for some of the world's most effective agencies tasked with fighting global diseases, including the U.S. Agency for International Development, the World Health Organization and the United Nations Food and Agriculture Association. As a House Appropriations Committee member, I have repeatedly fought against my Republican colleagues' attacks on critical governmental food aid programs like the Food for Peace Act and Food for Progress Program.
And while my Republican colleagues have been absent on the issue of food security, they have been regressive on climate change. According to the Woodrow Wilson Center's Environmental Change and Security Program, climate change is already increasing the risk of hunger and malnutrition among the poorest and most vulnerable. Natural disasters are becoming more frequent and intense, land and water are becoming scarcer, and irregular weather patterns are threatening agricultural productivity. The number of people at risk of hunger is likely to increase 10-20 percent by 2050 as a result of climate change.
House Republicans, in the face of these challenges, have voted more than 300 times on the floor to block environmental regulations, weaken environmental laws and stop environmental research. They've rejected amendments that would recognize climate change and removed language about rising sea levels. They've allowed no space for important debates around climate change response and innovative mitigation opportunities.
Lastly, on poverty alleviation, House Republicans have, yet again, turned their backs. They've turned their backs on the millions of children who die each year after falling ill to diseases such as pneumonia or diarrhea. These diseases are exacerbated by poverty, as weak bodies can't fight as effectively as healthy ones and low-income families cannot access necessary healthcare. By refusing to work on global health initiatives and failing to pass an iteration of the farm bill that would ease stress on agricultural communities worldwide, they have left these most marginalized communities to fend for themselves.
Republican intransigence has had a two-fold impact -- it has not only prevented our nation from making good on its promise to help end global hunger, it has signaled to the rest of the world that these issues are not enough of a priority for our government to invest in.
Despite their neglect, there is some good news. The World Bank and United Nations reported this year that the number of people living in extreme poverty has dropped in every region of the world for the first time in recorded history. This means that our current international approach to development and poverty reduction based on multilateral cooperation, strategic foreign aid flows and public-private partnerships is working -- and so too will our approaches to global hunger and malnutrition.
As we recognize World Hunger Day on Oct. 16, we must advocate loudly for these solutions. Global hunger and malnutrition is the most preventable health epidemic in our time. We have the resources and innovation necessary to tackle this challenge. What we need now is the political will.
Popular in the Community