"Black children deserve to be free."
In those six powerful words, writer and activist Feminista Jones expressed one of her biggest concerns for her son.
Her message, along with the messages of three other black mothers, is the focus of a new video from mater mea, a site dedicated to lifting the voices of black women. The video is the first in a series titled, "These Are Our Children." On camera, the mothers share stories about their kids, as well as their fears of a society where black children are perceived as threatening. The founder of mater mea, Anthonia Akitunde, told The Huffington Post that "black children are the victims of projections they don't have control over." This series aims to shed light on how those projections affect both the children and their parents.
"Sometimes I wonder if I let him go out into the world, are they going to embrace him as I do, or are they just going to chalk him up to just being whatever ideas they have about black boys," Jones said of her son.
Essence Editor Yolanda Sangweni echoed that fear when she explained that she also worries about her sons facing the dangers many young black men face today.
"Tamir Rice, Michael Brown, Trayvon [Martin] -- those could be my sons," she said. "And it really hits home because you think, 'Oh my gosh, no matter how well I think I'm doing this, when they step out of that door, it's a whole other conversation to be had.'"
The video aims to shatter harmful perceptions of black children and point out what people get wrong about children of color. A 2014 study shared by the American Psychological Association found that black boys are typically seen as older and "less innocent" than their white peers. According to a study published in February, white people may perceive black kids as young as 5 years old to be threatening. These four moms want to help change these assumptions by showing that their sons and daughters simply want to be kids.
"I would really like society to understand and appreciate that my son and other black children are children," home decor designer Nasozi Kakembo said.
While the video is aimed at people who might not understand what it's like to be a black child or to raise one, Sangweni closed the video with an important reminder for her kids and other children of color.
"I want our children to know that they matter, their dreams matter," she said.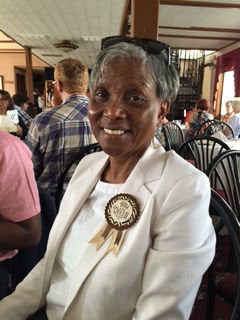 Celebrating 31 Women For Their #BlackMomMagic This Mother's Day