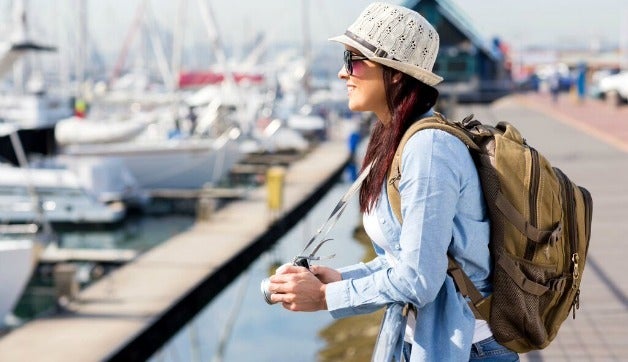 With the Fourth of July holiday basically upon us, it's always fun to see what the travel trends are for the Independence Day break and to see where your choices fit in among your fellow Americans. Destination picks, methods of bookings, travel pricing: what is the latest direction for today's traveler from the U.S.?
Scrolling through one's Instagram, one might get the impression that everyone is at his or her nearest beach. But, not so fast. Actually data from CheapOair, a leading flight-focused hybrid online travel agency might surprise you. In fact, the top ten domestic destinations of its customers for the 4th of July holiday are: Las Vegas, NV; Orlando, FL; Los Angeles, CA: Denver, CO; Seattle, WA; Dallas, TX; New York City, NY; Chicago, IL, San Francisco, CA and Ft. Lauderdale, FL. Such a list really runs the gamut, and some of the reason is based on pricing. Travel data shows that average costs for the majority of the top destinations are actually down compared to last year, with the exception of Los Angeles, CA, New York -LaGuardia, and Seattle, WA, which are up by 5%, 7% and 15%, respectively. Las Vegas may actually be high on the priority list of many people given that the city offers a 6% decrease in airfare since last year. Guess that means more money to gamble once one arrives.
But when analyzing travel data, airline ticket bookings only tell part of the story. Lodging further completes the true picture. For example, hotel booking platform Reservations.com seems to sync with air travel trends in that Las Vegas, Nevada takes first place on this year's list of top July 4th destinations followed by Orlando, Florida. However, Reno, Nevada; Myrtle Beach, SC and Nashville, Tennessee actually follow next in line. Why? This could be due to the fact that these two cities still seem to definitely be trending as a big, popular destination among millennials for the moment.
But are people actually taking advantage of the full amount of time many of us have off for the holiday, that is Saturday through Tuesday? A quick snapshot from Reservations.com shows that 90% of hotel bookings were made solely for a weekend getaway (1 – 3 day stays) while only 10% of travelers booked for the actual 4 days or more. But what might be even more intriguing is how these bookings are being made. 54% of travelers are booking through this lodging site, for example, did so via their desktops, while only 24% of travelers have been booking their summer travel via telephone, and 23% are booking on their mobile devices.
This figure is particularly interesting given that Salesforce.com recently reported that mobile usage is now averaging at 91% of the consumer mobile journey. Thus, this fnumber may solely pertain to retail goods purchases. Travel, because of its intricate planning nature still seems to be that which most people feel most comfortable using a computer with a full screen. In fact, understanding this trend Jetsetter recently launched Wanderlists, a Pinterest-styled-travel feature allowing users to build out a personalized, visual page of travel destinations and accommodations from destinations around the world that are on clear targets for July 4th and overall summer travel, from under-the-radar city stays to high-end beach resorts.
"Imagine getting ready to plan your trip of a lifetime. With Wanderlists, you can curate a visual itinerary of every beach, restaurant, city landmark, museum and more that you want to visit - from Bora Bora and Santorini to Australia and Bangkok. It's really making the planning experience easier, and a lot more enjoyable," says Eytan Seidman, Vice President & General Manager of Jetsetter.
Particularly for those traveling internationally, such a tool can be very useful given its high-resolution photo offering while enabling one to book directly via the stie. And many are, indeed, hitting international hot spots, even for just a few days, this holiday period and all throughout the summer.
Believe it or not a handful of destinations in Canada is one of the top of the list picks for travel outside of the U.S. this year. "Since the Canadian dollar has weakened, now is the perfect time for American travelers to visit the country and get as much 'bang for their buck' as possible, and they are going for it," said Mahesh Chaddah, co-CEO of Reservations.com.
Other destinations outside of the country are being eyed, as well, by others who travel constantly for both professional reasons that kick off around the 4th of July. For example, Tina Farris, road manager of the Grammy-award winning The Jimmy Fallon Show house band, The Roots says, "Summer travel means all of my favorite festivals and loads of work at them which means great friend and great musicians, and such things as great train rides that I'll book for all of us through places like the Swiss Alps and drinking great tap water all of which I am definitely looking forward to!!!"
So no matter where you travel this holiday, how you plan it, or for what reason; it's all about selecting a place that is right for you and your traveling companions while staying safe and finally enjoying a little rest and relaxation. Now that's a trend that never goes out of style.