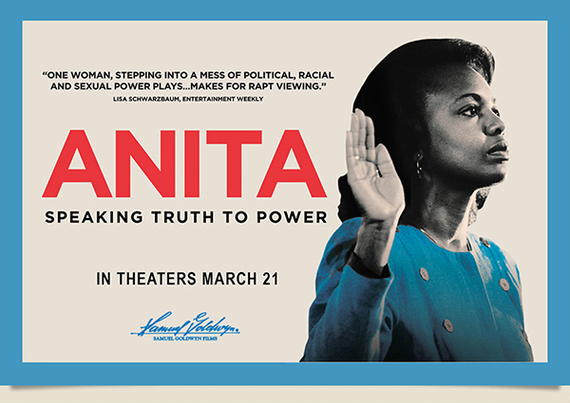 It's been more than 20 years since Anita Hill took the stand in Clarence Thomas' Senate Judiciary Committee's Supreme Court nomination confirmation hearings, electrifying the nation. While Hill's allegations of Thomas' sexual misconduct didn't stop Thomas' appointment to the Supreme Court, her testimony unexpectedly sparked a continuing national conversation on sexual harassment.
Few young women today have heard of the person who transformed their professional world; that includes Hill's own students at Brandeis University, where she currently teaches. Academy Award-winning director Freida Mock's new documentary,Anita: Speaking Truth to Power, aims to change that. The film, which opens to the general public on April 4, revisits that transformative moment in American social history. And it reveals that, since her moment of public courage, Ms. Hill has become a hero and model for those who do know her as a trailblazer, while thriving in her personal life.

Even those Americans who were glued to the televised hearings don't know the complicated backstory. Anita Hill's 1991 testimony did indeed launch a national conversation about sexual harassment and women's working conditions. But instead of a "he-said/she-said" narrative, with commentators taking sides based on their political views, the hearings could have been "he said/they said."
Another witness was waiting to testify against Thomas, with information that could have helped corroborate Hill's allegations. But Angela Wright, then a North Carolina journalist who had been subpoenaed by the Senate Judiciary Committee and left waiting in a Washington hotel for three days, was never called to testify.
Wright heard Anita Hill and thought, "I believe her because he did it to me." Her testimony might have changed history. She was subpoenaed. Why wasn't she called to testify -- and what would she have said if she had been?
In 1994, Florence George Graves cleared up those mysteries in the Washington Post, revealing the intricate -- and bipartisan -- behind-the-scenes maneuvering by several Senate Judiciary Committee members to discourage Wright's testimony. The article, entitled "The Other Woman," uncovered a surprising agreement among top Republicans and Democrats not to call Wright, apparently because they feared either that her testimony would create even greater political chaos or that it would doom Thomas' nomination.
The article also revealed evidence suggesting that Thomas lied to the Committee. Several senators -- including then-Republican Senator Arlen Specter of Pennsylvania, then-Senator Joe Biden (D-Del.), and several other key senators -- told Graves they believed that if Wright had testified, Thomas would not have been confirmed to the Supreme Court, where he has repeatedly voted to narrow the scope of sexual harassment law.
Ten years later, Graves delved even further into the facts of the Thomas confirmation hearings "Anita Hill -- The Complete Story," published in the Boston Globe Magazine in 2003, took a thorough look at the impact of Hill's testimony a decade after Thomas' confirmation. As Graves reported, while Hill was letting her life "speak for itself," more information -- much of it suppressed at the time -- was coming forth in her favor.
The newly disclosed facts illuminated a deeply flawed system for approving one of the most powerful officials in the United States: a lifetime appointment to our nation's Supreme Court.

Today Graves, like Anita Hill, is based at Brandeis University, where Graves launched and runs the Schuster Institute for Investigative Journalism, an independent reporting center focused on social justice and human rights. The Schuster Institute carefully and thoroughly investigates issues affecting those who are poor, migrants, enslaved, powerless, voiceless, jailed, or forgotten, and produces stories that are local, national, and global in scope.
For still more background and information about Anita Hill, about the hearings' social impact, and about related facts and controversies, see the Anita Hill webpage at the Schuster Institute.
Popular in the Community