Photo: Daily Burn 365
If you thought being a group fitness instructor looked easy, prepare yourself. On any given day, Becca Pace, a Daily Burn 365 and group fitness instructor, could be teaching up to six classes at different locations! "The class styles that I specialize in require a lot of physical demo-ing from me, since they are structured to flow much like a dance class," Pace says. "Plus, the commute can take me from the east side to the west, uptown to downtown, and I even teach in New Jersey one night a week. You can imagine, I get hungry with all of that action!"
The secret to her survival is making sure she always has a water bottle on hand to stay hydrated. "I pretty much only drink water, with the occasional coffee and hot tea in the mix, so having a steady supply is super important -- especially when I'm running all over NYC all day," Pace says. While she relies on smoothies and peanut butter to tide her over when she needs a quick snack, Pace says it's important for her to eat meals that will keep her full and energized.
Curious about how this super-toned fitness pro stays satiated? Here's a look at what she eats in a typical day.
What Group Fitness Instructor Becca Pace Eats in a Day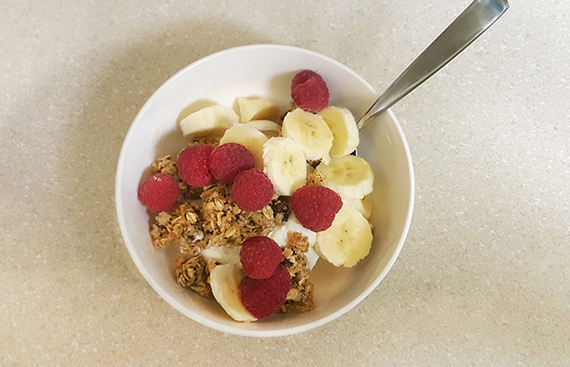 Breakfast
Greek yogurt, granola, bananas and blueberries (or whatever fruit she has on hand) is how Pace likes to rise and shine. "This is quick and easy for me to prepare, especially on my early morning starts, and gives me a little bit of everything to boost my energy and start my day off right," she says.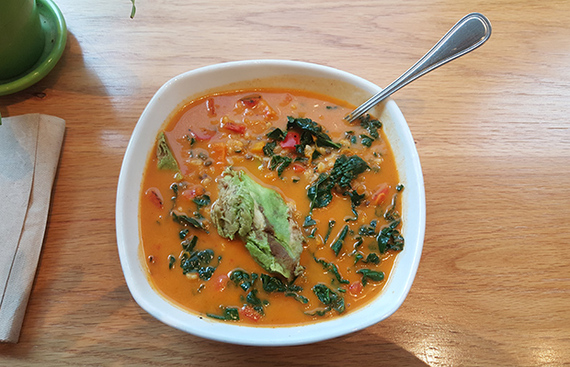 Lunch
Her on-the-go schedule means Pace often eats lunch when she's out and about. This soup from Evolution Fresh is made with vegetable-based broth (though Pace does eat meat), kale, tomato, beans and avocado. "So yummy, so healthy, but hearty to keep me full for a few hours, which is important," Pace says. "[It] warms me up, fills me up, and it was really great knowing everything was fresh and clean."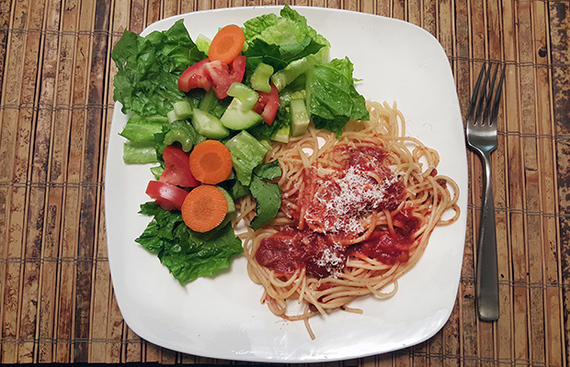 Dinner
Like most of us, Pace's eyes are often bigger than her stomach by dinnertime. "I love pasta, and I need the carbs after a big day of burning calories," she says. "However, I take a little less than I think I can eat, so I don't get to the point of feeling bloated from over-eating." She also tends to enjoy her food at a leisurely pace. "I eat very slowly, I always have," says Pace (who attributes her slow eating style to the fact that she's a big talker!). "This can be helpful in keeping the metabolism working at a steady pace."