Virginia Mellen's method of teaching her son an important life lesson is a bit unconventional, but also empowering.
On Sunday, Mellen posted in the Facebook group Pantsuit Nation about how she first shaved her head in high school and then a few times in college. The look made her feel "comfortable, confident, and attractive." Yet when the desire to shave her head crept up recently, the 27-year-old mom at first hesitated. Questions like, "Is this OK to do now that I'm a mom?" and "What will people think now that I'm older?" floated through her head. But then she thought about her 15-month-old son, Avi.
"I want my son to grow up with a mom who doesn't make decisions about her appearance based on what other people think," she wrote. "I want him to know that there is no particular way a mom or a woman is 'supposed' to look."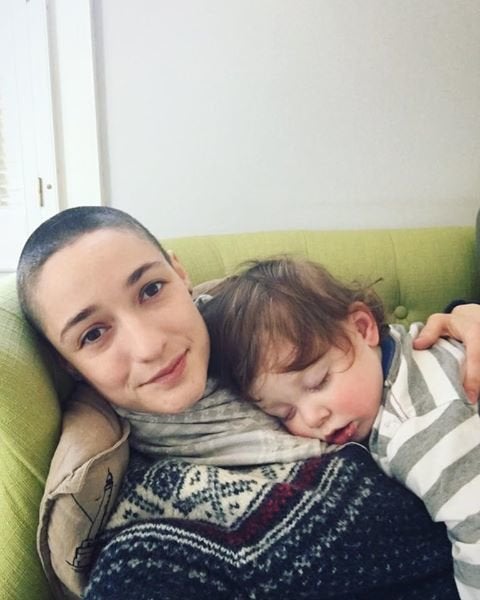 Despite any hesitations, Mellen had her head shaved on March 11 and posted about the experience in the Pantsuit Nation group. She told The Huffington Post her son is too young to comment on her look, but he does enjoy feeling her hair with his hands and rubbing his cheeks on it.
"I think he enjoys the velvety feel of the short hair," Mellen said.
Many other parents are into Mellen's look, too. She told HuffPost that since she shared her post, which has gotten more than 47,000 reactions as of Wednesday, she has received photos from moms showing off their shaved heads and dyed hair.
"I love seeing everyone celebrate their individuality," she said. "I have been surprised at the number of women who have said they wish they could shave their heads but they are 'too old' or 'don't have the face for it.' But I urge them to go for it!"
When asked whether she had advice for other moms who might avoid doing something they want to do simply because they are mothers, Mellen suggested they "take a step back."
"Ask if you have doubts because of what other people may think," she said. "I am still a fairly new mom, but the most important knowledge I have gained so far is that there is no right way to be a mom. There is such enormous pressure on mothers to be a certain way, but I think even young kids can benefit from seeing our individuality."
Popular in the Community