Los Angeles-based musician John Constantine's (aka The Hound) latest offering "Can't Let You Go" is inspired by both the death of his icon George Michael and a real-life broken relationship. It's an unashamedly queer and sensual video featuring himself and downtown LA model Aram Giragos.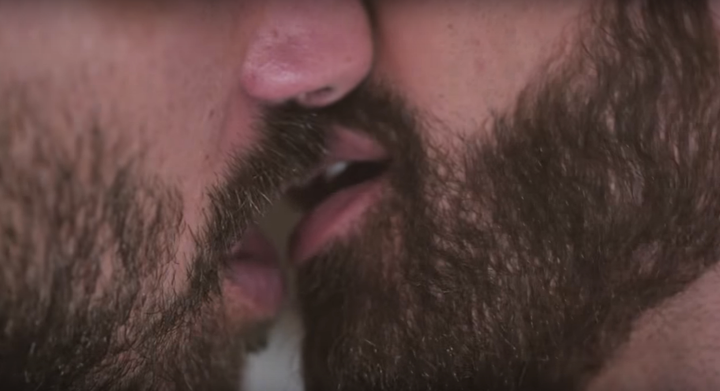 Can you tell us a little about The Hound and this new video's origin?
It all started with being asked to perform at a club in downtown LA for a George Michael tribute night, and from there I was getting booked and performing covers of artists I love. While I was producing those tracks, I had some things happen to me that basically inspired this song, which was written very quickly.
His (George Michael's) passing had a huge impact on me. It was that night that someone was planning a last minute tribute. I was asked if I wanted to sing the next night, and without thinking I said yes. In the morning I woke up and thought, "What the fuck did I just say yes to?" If it hadn't been for George, I might have cancelled, but I spent the day producing a ballad version of Faith and sang it that night. Since then I've been performing a lot.
Before that night, most of my community had no idea I was a performer, even though I had been in a band for 6 years and played at SXSW. We took a hiatus when I moved to LA, and I didn't really know what I was going to do.
After having some success with your band, what inspired a hiatus?
I was in a rough place at the beginning of the year. I lit a match and set the most important relationships in my life ablaze. It resulted in a pretty toxic relationship that wasn't easy to walk away from. My depression was taking over, I was having severe panic attacks. Once I left that relationship I started to heal, went to therapy twice a week, and now I'm starting to see that it all led me to where I'm at now.
Both this video and your reinterpretation of Rupaul's "Sissy That Walk" are boldly queer. How do you feel it's being received in our current climate?
I think it's still very difficult to be a gay musician. A lot of times in the mainstream market you are told to keep your queerness as an afterthought and market yourself in a heteronormative way, or risk being labeled as a parody or not taken seriously. Meanwhile your straight contemporaries can be as honest, intimate and sexual as they want to be without any hesitation of it hurting their career. So, I want to keep writing and performing without compromise, stay true to myself, and be queer AF without fear.
Watch the video for "Can't Let You Go" below:
Popular in the Community