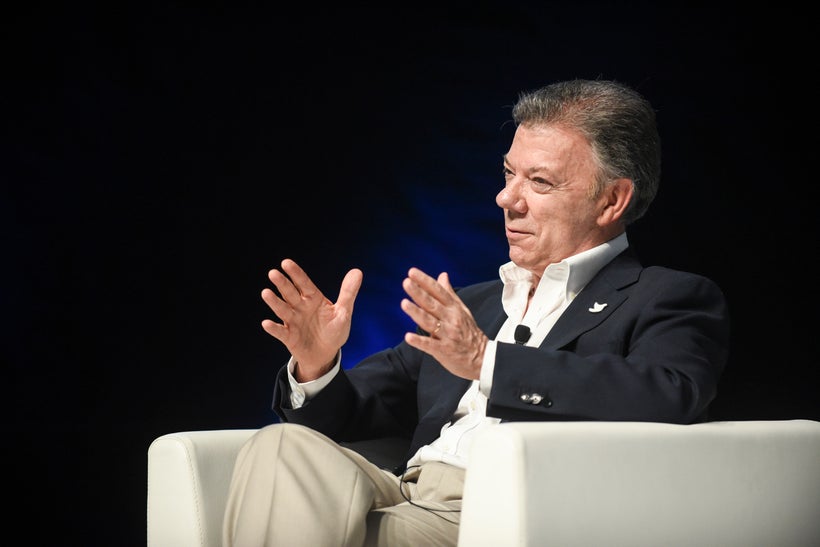 There is a troubling trend in America. By and large, Americans on both sides of the aisle agree that things are getting increasingly uncivil. More troubling is that Americans most often point to politicians – the very people elected to represent them – as driving incivility.
Yet there is proof that it doesn't have to be this way. In fact, some of our world's most impactful leaders – three Nobel laureates with whom I've had the honor to work – present a powerful example for effective – and yes, civil – communications as a tool of leadership: Oscar Arias of Costa Rica, Nelson Mandela of South Africa and Juan Manuel Santos of Colombia.
During a career in communications and politics, I have had the honor of advising – but, more important, learning from – them all. Recently, I interviewed President Santos, who received the 2016 Nobel Peace Prize for his work ending a civil war that had ripped his country apart for more than half a century, at the Cannes Lions International Festival of Creativity.
The interview reminded me of the characteristics each of these leaders shared: commitments to civility matched by seriousness, persistence and steely resolve. Tellingly, none of them were screamers, yet each communicated his message more effectively than the loudest practitioners of the yelling arts today. Their societies, and our world, are better for it.
In an era of division and dysfunction, we could profit from lessons from these three.
I first met Oscar Arias in 1985 when he was running for president of Costa Rica. I remember our first meeting. He seemed almost shy, not the typical caricature of a Latin American politician delivering lengthy speeches and pounding on podiums.
It was his commitment to reason – to civility – that enabled him to connect with his constituents. President Arias could never have won a screaming contest, if only because he would have been – as so many of our leaders are in danger of becoming today – just another screamer competing on volume alone. His gift was moving the battlefield from volume to ideas. And in doing so, he became a principle architect of the Esquipulas II Accords, which brought the Central American crisis to an end.
Civility also entails a genuine capacity to see things as others do. No one had more of a right not to do so than Nelson Mandela, with whom I worked shortly after he was released from 27 years in prison. His party, the African National Congress (ANC), needed to make the transition from a para-military organization to a political party. One would imagine, after years of the scourge of apartheid, that the ANC leaders would be consumed by revenge. Yet Mandela did not seek revenge but reconciliation, and his calm charisma was the defining characteristic of his leadership. He famously said, "Freedom without civility, freedom without the ability to live in peace, was not true freedom at all."
The Nobel Peace Prize was awarded in 1993 to Mandela and Frederik Willem de Klerk for their work to end apartheid and lay a new foundation for a democratic South Africa.
Mandela also proved to be a worthy mentor to President Santos, who shared during our Cannes talk that he often drew upon lessons learned from South Africa as he pursued peace in his own country. One of them is that civility is not an overnight accomplishment. It takes both persistence and guts.
At great political risk, Santos launched peace negotiations to end a 50-year civil war, Latin America's longest. It took years, and Santos was heavily criticized. Yet he never relented, and in the face of vitriolic rhetoric, never responded in kind. He kept his cool, calmed the waters, kept the parties at the table.
Since the Colombian peace deal, President Santos has been known to say that that it's harder to make peace than it is to make war. That it requires a different form of leadership to engage people, to change hearts and change minds. To see your adversaries as humans, and to understand their perspectives.
What's striking about these leaders is that they knew what tragedy meant. Their societies were fighting far more than wars of words. Yet the higher the stakes, the more they sought to calm the tone. It was precisely because so much was at risk that civility was, for them, so important. In our own society, if as much is at stake as our politicians say, surely they can learn a lesson from these leaders in the calming and powerful value of civility.
Calling all HuffPost superfans!
Sign up for membership to become a founding member and help shape HuffPost's next chapter
This post was published on the now-closed HuffPost Contributor platform. Contributors control their own work and posted freely to our site. If you need to flag this entry as abusive,
send us an email
.