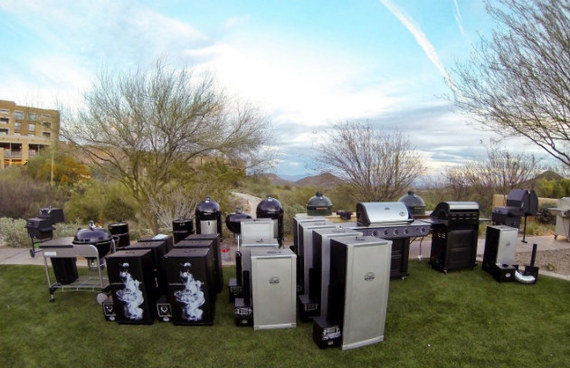 "Which grill should I buy?" is one of the most frequently asked questions on the Barbecue Board. Unfortunately, there's no "one-size-fits-all" answer. The Weber Performer gives you great versatility (you can grill, barbecue, and smoke on it), but a convenience-minded gas griller, or diehard wood griller, wants a different sort of live fire experience.
One key question to ask yourself before you make your purchase:
Do I want charcoal, gas, wood-burning, or other?
In 1954, the Chicago Combustion Company introduced the first gas grill to the market, the portable "Lazy Man." It ran on propane. Thus began one of the most, er, heated debates in barbecue--gas versus charcoal. Gas grills (propane or natural gas) offer convenient push-button ignition and steady heat that can be adjusted by turning a knob. They're all about results. Charcoal grills are about the process--building and tending a fire and the ritual of waltzing food from hot spots to cool spots. With a charcoal grill, you can smoke, barbecue low and slow, or direct grill. (It's very difficult to smoke--really smoke--on a gas grill.)
If you're as addicted to smoke as I am, consider a wood-burning grill or an offset smoker (a.k.a. stick burner) like a Horizon, that slow smokes pork shoulders and briskets with nothing more than wood smoke. Personally, I think food smoked or grilled over wood has an incomparable flavor. If chopping or hauling wood sounds like a chore, you might investigate pellet grills, like a Memphis Wood Fire Grill. Fill the hopper with hardwood pellets, then preheat to the desired temperature. The convenience of electricity with the flavor of wood.
Several companies, including Char-Griller, Dyna-Glo, and Smoke Hollow, manufacture grills that can burn either charcoal or gas. Kalamazoo Gourmet sells a hybrid grill that burns wood in addition to charcoal or gas.
If you have limited outdoor space or are prohibited from cooking with live fire by condominium rules or the terms of your lease, consider an electric smoker, like a Bradley. Read online reviews or consult the knowledgeable Barbecue Board community before making a decision.
SIGN UP for Steven Raichlen's UP IN SMOKE newsletter to learn more about barbecue!
Steven Raichlen is the author of the Barbecue! Bible cookbook series and the host of Primal Grill on PBS. His web site is BarbecueBible.com.