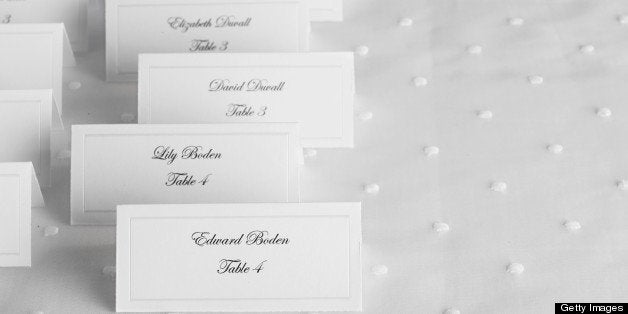 I read something that made me cringe today. I was skimming through a popular wedding Facebook page when I stopped at a photo of some escort cards with the heading "When people don't send in their RSVP card." The photo showed several escort cards, a few reading "I Didn't RSVP But I Came Anyway -- Table 20". It was a cheeky little poke at those few guests who for whatever reason didn't RSVP to a wedding. I thought it was cute, and a funny way to deal with a sticky situation that brides sometimes find themselves in -- because duh, shit happens. If someone shows up that didn't RSVP, shame on you, but we still love you and are happy you were able to make it! We've saved a spot for you at table 20. Now this wasn't the part that made me cringe. What kind of surprised me was one of the comments someone posted. They said that they are actually having a list at the door of names of guests who didn't RSVP. If they show up, NO ENTRY.
I hate to say it, but WTF! I mean really? Someone who you love and obviously care about (because if you didn't you wouldn't have invited them in the first place) you are going to turn them away -- in their fancy cloths and a gift for YOU. Tell them to take a hike and that they are not welcome after they took time out of their day to come and celebrate with you? It's called get some manners, and here's why.
There could be a million reasons why someone forgot to RSVP to your wedding. Wifey tells hubby to mail the card on his way to work. Hubbie throws it in his briefcase and completely forgets. Your friend from college mails the reply card, but the mailman didn't get much sleep the night before and accidentally put it in your neighbor's mailbox by mistake. Your cranky neighbor is a jerk and throws it in the garbage instead of doing the neighborly thing and bringing it to you. Or your fiancé's unreliable buddy just didn't mail it, because he's a dude, and they do that. Hey, we're all human right? No one is perfect.
Or, now I know this sounds crazy, someone's life was super busy and they totally forgot to mail it, or send the email or text to let you know they were coming, because they have a life to live and your wedding isn't the center of their universe. Now miss thing, if you had done your due diligence and called, texted, emailed the no replies on your list a month before your wedding, you more than likely would not have anyone who didn't reply. I know, sometimes you have to be the big person and take a bit of control and do the work. It's called being a grown up.
I've been a wedding planner for sixteen years, and it has happened on occasion that some people show up that didn't reply. And guess what, THE WORLD DIDN'T END! It's not like you're going to have twenty people show up that didn't reply. It will be a few people tops. Have someone tell the kitchen there are a few more guests than anticipated (they always make a few more meals just in case anyways), grab a few chairs (make sure you ask your rental company to leave a few extra chairs and chair covers just in case) find some open spaces (because there are always a few tables with a bit of extra space - I've given up my spot a few times and asked other vendors to do the same, we ate in the back, no biggie) slip in the chairs and extra table settings, and voila! Everyone is happy and you haven't embarrassed yourselves by looking like pompous jerks.
I also want to note that a few of my brides have made mistakes on their reply lists as well - forgetting a few names on the list they send to the printers. So the guests name isn't on the seating chart or there is no escort card for them. What if you made a mistake on your no reply list, or assumed because their name isn't on the seating chart that they didn't reply? Imagine telling those people too bad so sad, you didn't reply so go home. That would just be awful.
I guess what I am trying to say here is why even go there? Why even have that as an option? I say this over and over again, attitude is everything. A good positive attitude going into your wedding day makes all the difference, and so does a bad attitude. If you are going to have a negative outlook, it just breeds more drama into your day, creating more negative energy. I've seen this happen with brides a million times - creating drama that isn't necessary.
It's a celebration! How lucky are you that more people than you anticipated showed up to celebrate with you! Try looking at it that way instead of anticipating drama and coming up with some crazy scheme to teach those bad no replies a lesson and just let it go! Focus on what is going to go right - all these people will be taking time out of their life to make your wedding day amazing!
Have this plan instead -- two guests arrive at your reception that didn't reply. You smile when you find out that they showed up, and you are a gracious host and welcome them with a smile and thank them for coming. Now doesn't that just feel better?