Eighty-five percent of the world's housing is built illegally. In cities across the Global South, this often takes the form of low-income neighborhoods that grow organically in areas where residents can access jobs, schools, and public services. Historically, government services to these areas tend to be weak or entirely non-existent. Today, governments across the Global South generally choose between resettlement, upgrading of services within the existing communities, or continued neglect, the latter of which demands solutions from other actors. Surabaya, Delhi, Ho Chi Minh City, and Nairobi lend insight into global efforts to address the challenges of informal settlements.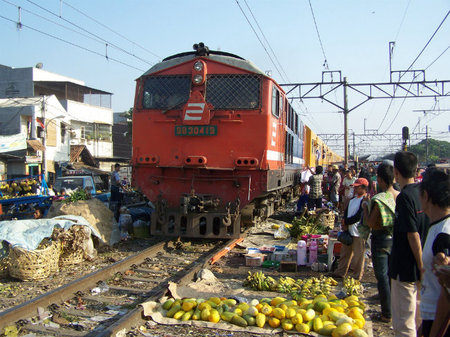 Surabaya's ongoing rapid urbanization brings hundreds of thousands of migrants to the city each year looking for work. Due to the lack of affordable housing, many of these migrants move illegally onto empty government land, often to areas around railway tracks. The Indonesian Train Company has started clearing illegal settlements, displacing not only residents but informal businesses too. The Surabaya City Council's strategy is to provide flats for those who are removed and compensate those who are evicted from semi-permanent structures. Those who are willing to move further away from the city may be eligible for land deeds. Still, many migrants object. Some have called these informal communities home for years, and they reject the new locations as being too far away from urban centers and jobs. Many illegal settlements remain because residents pay bribes to land owners in order to avoid resettlement.
In Delhi, when slum dwellings occupy land that is centrally located and strategic in terms of real estate, the government usually turns to a policy of demolitions. In the last ten years, most of Delhi's evicted slum dwellers have been resettled in the municipality's rural fringes, far away from their jobs and communities. Although those who are evicted may be provided with new homes, they may be only eligible for ownership licenses for as little as seven years, with no rights to transfer, sell or mortgage. Furthermore, it can take between 3 and 15 years for the government to deliver basic services such as electricity, sewage, and water to the resettlement communities. However, after persistent advocacy and a march of tens of thousands of people in 2013, the central government is working on an ambitious national land reform policy that may advance the rights of slum dwellers.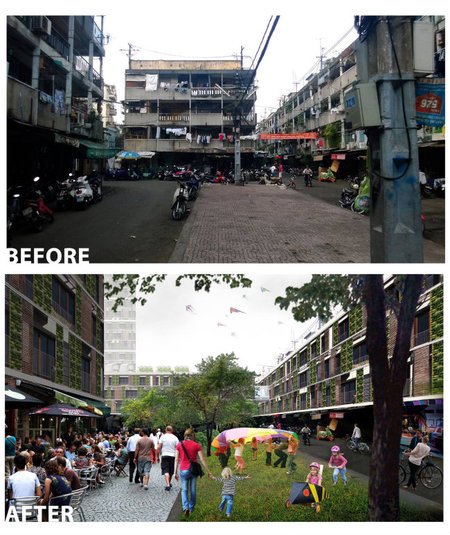 Ho Chi Minh's polluted inner-city canals have been home to the city's biggest slum communities for decades. Beginning in 1985, the government has followed a policy of resettlement, moving over 13,000 families into new houses in new communities. Surveys in 2009 revealed immense challenges facing resettled families, the most severe of which was the drop in income due to losing old jobs. Many families even opted to leave the "better" homes to return illegally to the informal settlements. One alternative solution under consideration is same-place resettlement, where families would be supported to find temporary houses until their old informal communities were rebuilt into better housing. The on-going Saigon Makeover Competition organized by the World Economic Forum's Global Shapers with support from the government calls for creative proposals to redesign and spruce up existing slum communities.
In Kibera, the largest slum in Nairobi, grassroots initiatives are improving the community in the absence of effective government solutions. Women in Kibera face particular challenges: female slum dwellers across the world are five times more likely to be unemployed than their male neighbors, and they may live in environments where a nighttime trip to communal bathrooms puts them in danger of being raped. However, solutions are rising from multiple angles. The Wise Women microfinance collective developed a community approach for building sustainable water and bathroom facilities for residents, with funding from the Kenya Water for Health Organization and underground metal piping from the Nairobi City Water and Utility Company. M-Maji is a mobile platform for accessing information on water prices, so that women and men on intensely limited budgets can make the most economical decisions. Both clean water and reasonable sanitation facilities are guaranteed in the Kenyan constitution, but these groups refuse to wait for the government to deliver them.
From remote resettlement to same-place resettlement, and from government-led upgrading to grassroots initiatives, it is clear that the debate on solutions for informal communities is a hotly contested one. For more discussion on land policy and slum communities, visit URB.im and share your thoughts.
Photo credits: Johanes Christian; Nguyễn Ngọc Quỳnh Thy, Đỗ Kim Chung, Phan Xuân Thiện.
Calling all HuffPost superfans!
Sign up for membership to become a founding member and help shape HuffPost's next chapter