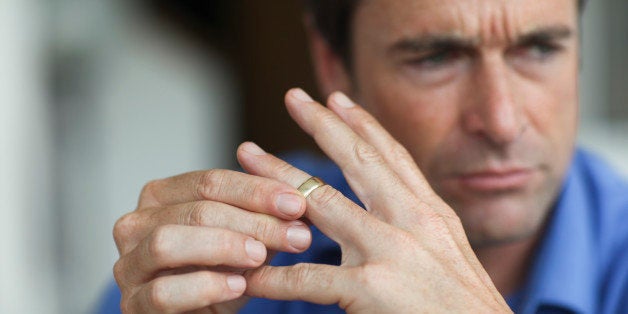 Immediately following your divorce, there is one key action you must take in order to set yourself for "life after divorce" success. But it's not what you might think. It's certainly not to dive right into another relationship because you're lonely. You don't need to pretend everything is a-okay, even though it isn't. It's not turning yourself inside-out to overcompensate to your kids for the divorce. It's not even learn how to get along with your ex, maybe not just yet.
The number one action you must take is to work on yourself. Your self-confidence and self-esteem will inform and influence how happy you feel as you navigate through the challenging and heart-healing two years that follow, and long into the future.
In case you haven't heard, therapists have been quoted as saying it takes two years to heal from a divorce and be ready for a new love and relationship. You might think you're special and need less time (I certainly did) because you didn't love your spouse for the past few years, or because you're more relieved than devastated. You would be wrong -- you need every minute of those two years.
So, while you're waiting it out, you can be proactive about your life and yourself. Practicing fantastic self-care after a divorce is a must, regardless of whether you're a man or a woman. If your primary concern up to this point has been your kids, I understand. But putting the mask on yourself so you can help others isn't just for air travel, taking care of yourself first is an excellent post-divorce strategy.
Self-care can be a touchy subject. That's because our society largely views self-care as selfish, indulgent, or sometimes even narcissistic. Yet self-care is anything but self-indulgent, or selfish. Taking good care of yourself not only makes your life more fulfilling, but it also contributes to your well-being. During divorce, self-care can make the difference between just getting through the day and actually enjoying the day as it happens.
From years of personal experience, as well as from the work I've done in my executive coaching practice with many hardworking men and women, I've learned that when we care for ourselves consciously and with intention, we naturally begin to free ourselves to reach our highest potential and give our best selves to the world. The process of divorce can come as a shock, throwing us off of our equilibrium and bringing most, if not all, to their knees, and any self-care to a screeching halt.
If self-care has never been on your agenda, the very fact that you are dealing with a divorce means there's no time like the present to include simple yet profound activities into your life that can make all of the difference to your mental, physical and spiritual health.
Here are three ways to incorporate self-care into your life during and after divorce:
1. Discover when, where, why, and how you feel deprived and unhappy. Figure out where you feel deprived of what are probably some much-needed things in your life, such as physical touch, increased fulfillment, and fun! From there you will gain a good idea on how best to approach your self-care.
2. Identify your ideal routine. Routine isn't boring. Rather, routine gives our lives stability, security, safety, and serenity. Routine is rejuvenating because it becomes part of who you are, and becomes something you can rely on thus reducing stress and increasing personal happiness. Getting enough sleep, exercise, volunteering, or having a girls' or guys' night out (GNOs) are all routines that restore and rejuvenate. To identify a routine that would matter, ask yourself: "What one activity could I put into place this month that would improve my life the most, that I could also do on a regular basis?" Once identified, schedule that first appointment (such as a massage, facial, or haircut), and place a recurring appointment on your calendar. You should see the effects of your new activity after the first time, and after a few times, may recognize that you feel more relaxed, healthier, and less stressed.
3. Create an "absolutely not list." Knowing what you don't want to do is just as important as knowing what you do want! In marriage, we sometimes will tolerate the actions or needs and desires of others in order to make or keep them happy, much to our own detriment. This list represents the things that you refuse to tolerate in your life, because they don't make you happy. Now that you are divorced, you can begin to do the things that make you happy, while simultaneously refusing to do anything that makes you unhappy.
Make a list of your new self-care best practices, post it in a visible place, and look at it every day. Mine is on my refrigerator, and just looking at it reduces my stress and reminds me I always have something to look forward to, such as my monthly massage, weekend walking workouts with my girlfriends, and a cup of tea and a new magazine a few times a month.
Extreme self-care takes practice. At first, it might seem awkward to say no to something or someone, but what you're really doing is saying YES to yourself! You might even feel guilty for taking time for yourself. But with practice, it will become more natural and automatic, and you'll notice that you feel a whole lot more fulfilled and eventually you will become genuinely happy.