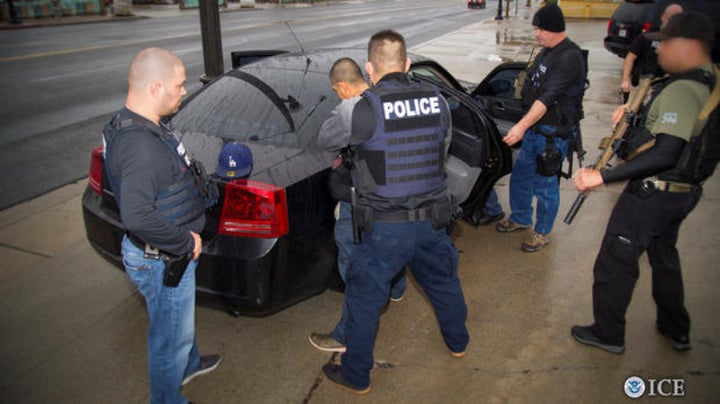 President Trump and the Department of Homeland Security are strictly enforcing immigration laws. Homeland Security Secretary John F. Kelly recently said, "There will be no, repeat no, mass deportations," but by law, anyone living in the United States without permission is at risk. Even a clean criminal record doesn't ensure protection.
"There's effectively no prioritization," says Andre Segura, a staff attorney with the American Civil Liberties Union's Immigrants Rights Project. "We're going to see people who would not normally be detained, be detained." Only DACA recipients (illegal immigrants who arrived in the U.S. as children and were given work permits under a 2012 Obama administration program) are excluded.
If you witness immigration officers questioning someone, or are stopped yourself, here's what to do:
1. Ask to see a warrant
Immigration and Customs Enforcement (ICE) officials are required to present different kinds of warrants, depending on whether they are detaining someone in public or entering an individual's home. If ICE officials stop someone on the street, they can use a so-called "administrative warrant of removal." When immigration officers demand to enter someone's home, they must present a search warrant or an arrest warrant signed by a judge that specifically names the person of interest. The ACLU recommends that people stopped by ICE, "Look at the top and at the signature line [of any warrant] to see if it was issued by a court and signed by a judge."
2. Remain silent
According to Segura, whether you're a citizen or not, you have the right to remain silent and the right to ask for an attorney if you are detained. (When arresting someone for being in the U.S. illegally, it's standard practice for ICE officials to read a modified version of Miranda Rights, says Cheryl David, former chair of the New York Chapter of the American Immigration Lawyers Association.) Experts advise exercising both of these rights, but in the meantime, provide any immigration paperwork—work authorization cards, visas or green cards—that you may have. "There's no reason to hide that," Segura says.
3. Document the experience (with caution)
Obstructing an immigration stop could be a criminal violation. "Individuals who witness an arrest should stay clear, avoid interfering, and most particularly, ensure that they take no actions or make any motions that could be construed as threatening to the lives or safety of the officers, arrestee or anyone else," says Dan Cadman, a retired ICE official now with the Washington, D.C.-based Center for Immigration Studies.
Documenting the incident with photographs or video is important to ensure detainment is carried out in a lawful manner. The New York City-based Immigrant Defense Project recommends acting in a respectful manner and keeping a distance. Before pulling a cellphone out of your pocket or handbag, inform the officers what you're reaching for so they don't mistake your device for a weapon. If filming doesn't seem like a safe option, jot down details of the raid while they're fresh in your memory.
4. Put children first
If you or someone you know is facing deportation and you are concerned about the safety of children who might be affected, consult an immigration lawyer or email ERO.INFO@ice.dhs.gov with "Parental Interests Inquiry" in the subject line.
For detailed legal advice and guides on how undocumented people should ensure their children's safety in they event they are detained, contact The Appleseed Network and the Immigrant Defense Project. A key course of action is to work with a lawyer to designate a "temporary guardian" and to have all of a child's paperwork—birth certificate, social security card, and custody papers—organized.
5. Do not attempt to take sanctuary in a school, church or hospital
So far, DHS and ICE is continuing to follow the so-called sensitive locations memo, a 2011 directive that advised against questioning people at schools, churches and hospitals. But that might not always be the case. Legally, immigration officials carrying the appropriate warrant can arrest people in these locales if they believe there is a threat to public safety or evidence pertaining to a criminal case.
Additional reporting by Hallie Steiner
Popular in the Community