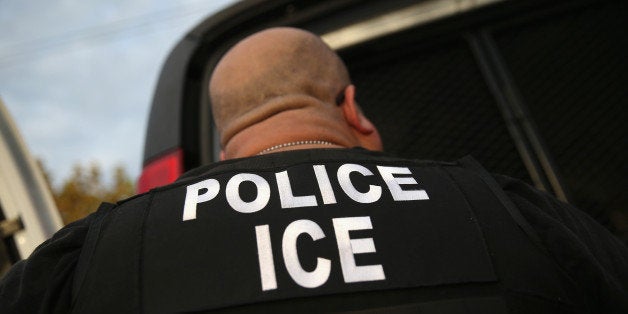 Since just before the end of 2015, the announcement and then execution of expanded immigration raids has set off panic in immigrant communities. The heightened awareness of Immigration and Customs Enforcement (ICE) activity caused rumors to fly, moved faith leaders to offer sanctuary, and exposed that in addition to its current hunt for asylum-seeking mothers and children, ICE is performing raids on a daily basis under the banner of "fugitive operations."
Just this week, as the Supreme Court announced it would take up a case that could finally allow some undocumented immigrants temporary relief, the Washington Post reported that we can expect the raids to be on-going and possibly target unaccompanied children and people who have been ordered deported without ever having been in court.
The new context of 2016 has many people asking, "What do I do if immigration agents come to my door?"
Here are nine steps for what to do in case of a raid.
1. Get in touch with a community or advocacy group right now. The best defense against immigration enforcement practices that separate our families is to be organized and be prepared beforehand. Being in touch with a community organization can give you resources that you need to defend yourself and your family, information about your rights, and a group of people who can organize to defend you, if something should happen.
2. Create an emergency plan for taking care of children, the elderly or other people who depend on your care. Let them know who to call if you get taken into custody or you don't pick them up from school or the doctor. Have the paperwork prepared to grant a trusted person permission to pick up your children or perform other duties in your place.
3. Memorize the phone number of two trusted people. When in custody, you will not have access to your phone so you'll need to have contact numbers memorized. They should know that they are your contacts in case of emergency (i.e. if you get taken into custody by ICE), know where your important documents are, and what is your emergency plan.
4. If ICE comes to your home, do not open the door. Even if they tell you they are looking for someone else, or they show you the photograph of the person they are looking for and you do not know them, you don't have to open the door.
If they say they have a warrant, ask them to slip it under the door or show you through a window. The document should be signed by a judge, and have the name of the person they are pursuing and address that they have permission to search. You still don't have to open the door if they have it, but it means they likely will come in anyway. But if they come in without your permission and without a warrant, it is a violation of civil rights. Either way, it is best practice to just not open the door.
5. Remain silent. Anything you say can be used against you by ICE. Unlike in a criminal arrest, you will not be reminded by the agents or read your miranda rights. Do not answer any questions, especially those that expose your status like where were you born, do you have papers.
6. Do not sign any papers without your attorney or agree to be fingerprinted. Do not give information about yourself. Immigration agents sometimes insist that people should sign confessions or their own deportation, ironically called "voluntary departure". Do not sign anything without fully understanding it and having the advice of a trusted lawyer. ICE agents have also asked for people's fingerprints. You do not have to allow them to take your fingerprints.
7. Document the raid. Take pictures, the names of the agents (if possible), ask for their badge number, count how many agents were present and if they had guns. Write down whether they were given permission to enter the house, and get the names and birthdays of those taken into custody. If you don't get a chance until after, write down what you remember as soon as you are able to and report it to a community organization.
8. Know that you can fight your case. Get advice from a trusted attorney and look for resources in your community. Just because you have been ordered deported, doesn't mean that you are out of options. Many times immigrants do not receive proper representation from their attorneys, and are ordered deported even though they have solid evidence that they should be allowed to stay. Other times, attention from the community is able to get ICE to re-consider a person's deportation. To get an initial evaluation of your case if you are a victim of a raid or are in deportation proceedings visit, http://www.notonemoredeportation.com/intake/
9. Report the raid: Make sure you report the raid. You can call the Salvadoran consulate at 202.553.1545 or let us know what happened here.
This post does not constitute professional legal advice. Always contact a licensed legal representative for advice on your specific situation.
Calling all HuffPost superfans!
Sign up for membership to become a founding member and help shape HuffPost's next chapter