Graduation season is around the corner which means that there will be a new batch of post grads on the job hunt. Graduating college can seem scary; you're now leaving the place that you have called home for so long, friends who have become family, and the familiarity of a classroom.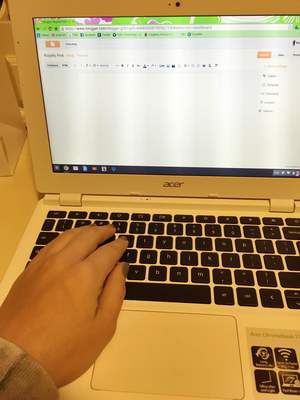 Embarking on this new post graduate life can be intimidating, especially when you have the pressure of the "real world" knocking on your door. The past four years have been leading up to this moment, leading up to starting your career. You've done the internships, fixed up your resume, went to the career center, and applied for jobs. It's graduation day and you still don't have one lined up. You may be freaking out at the thought of moving back into your childhood home with nothing to do all summer, but calm down... You got this.
Just because you don't have a job the moment you walk across that stage doesn't mean your diploma has gone to waste. It takes some time to find a job post-grad and you're not alone. A full time job will come, when you are ready. In the meantime, there are some things you can do to beef up that resume and keep you occupied, all the while working toward that first position.
1. Start a Blog
If you haven't heard, starting a blog is the new trend. Everyone has the capability to write a blog so why not start now? You can write about anything you want -- traveling, hiking, cooking, beauty, anything you enjoy, there are people willingly to read about it. Not only will it keep you busy but you will be honing your writing, social media, and networking skills. It shows employers that you have a passionate, driven side and that you are a self starter. If you've ever considered blogging, now is the perfect time to take the leap.
2. Volunteer
Volunteering in any way is a great use of your time. Whether it's at the local animal shelter, a soup kitchen, or even in the public library, there is some place in your neighborhood that can use an extra hand. You'll be helping people, which is always a positive thing and you may even stumble on something permanent (and paid). If you were struggling with not loving your intended career, you may even find a new passion. Also, employers will admire the fact that you got up and did something during your time off instead of just sitting on the couch.
3. Do a Paid Internships
Post graduates don't like the word "internship." It's something they've already done and something they may feel will look bad on a resume. In fact, it's the total opposite. A paid internship after graduating is a great opportunity. It's more experience, which is something you can never get enough of, and it's paid (which is a definite plus!) If you are able to get your foot in the door of a company, as a paid intern, and they know you aren't going back to school, they may offer you a more permanent role. Paid internships lead to great things!
4. Keep Applying!
It's very easy to get discouraged not hearing back from the many jobs you've applied to. It takes some time, especially if you're fresh out of school. The important thing is to stay positive and keep applying. Eventually, something will give and you'll get a call for that first interview. Who knows, that may be the interview that starts your career!
Post grad doesn't need to be a waiting game. You can take hold of your new life immediately and create something that will get you to where you want to be!
Related
Popular in the Community