During your divorce, both you and your ex stand to lose a great deal, including the house you lived in together. Often, splitting marital property becomes the most complex ordeal you'll face. That's why it's important to research your state's property division laws to understand your rights.
For instance, most states uphold what is called an equitable distribution of assets, which insures that both spouses receive a certain portion of the marital home unless otherwise stated in the court documents.
However, it's important to keep in mind the valuation date (the day that an appraiser has estimated the worth of the house), recorded in official divorce court documents. Typically, if either one of you lives outside of the home during divorce proceedings, the regular expenses involving the house will continue to be split halfway. However, if the property value increases after the valuation date, the spouse who remained on the property might get the extra money from the sale after the divorce is finalized.
While consulting with an attorney is your best option for legal advice during this trying time, we've put together a graphic to help you better understand the process.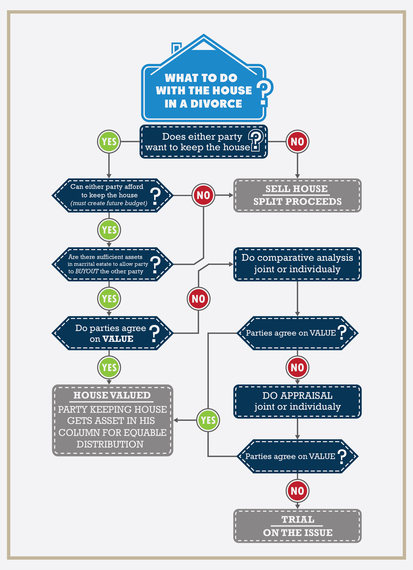 Graphic provided by Denmon & Denmon Trial Lawyers.
Related