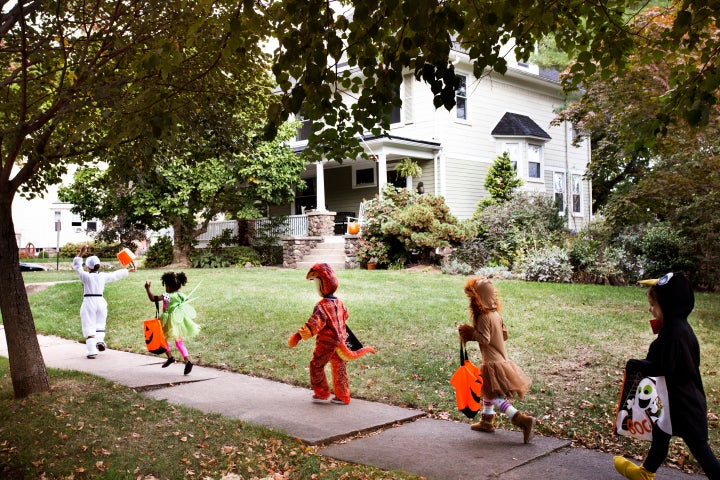 The day after Halloween is often a time for kids to recover from the candy-filled holiday and for parents to figure out what to do with yet another year's worth of costumes (and, let's be honest, how to hide/eat all that candy).
There are likely some local efforts that involve giving Halloween donations to your community's church, shelter or other group. But there are also other options for giving costumes a second chance that might not be on many parents' radars.
Here are three things to do with your kids' (and maybe even your own) gently used Halloween costumes.
Consider Donating To Kids In Need
The Halloween Helpers began in 2008 when Emma Rose Shapiro, who was 11 at the time, gathered her gently used costumes and dance class outfits to give to families who didn't have the resources to buy a costume. She asked her community to help, too. Ten years later, her mother, Ilyse Shapiro, estimates that including this Halloween season, the team has sent out about 8,000 costumes.
Ilyse told HuffPost "kids come in all shapes and sizes" so The Halloween Helpers accept new or gently used but clean costumes at their P.O. box in Pennsylvania in sizes for infants, children and adults (as long as they're appropriate). The team then sends them out to places like community centers, nonprofits, shelters, children's museums and similar locations nationwide and sometimes around the world.
Ilyse said she typically sees an increase in donated costumes the week after Halloween, but the team accepts donations year-round. They also take accessories like wands and tiaras, as long as they correspond with the donated costume.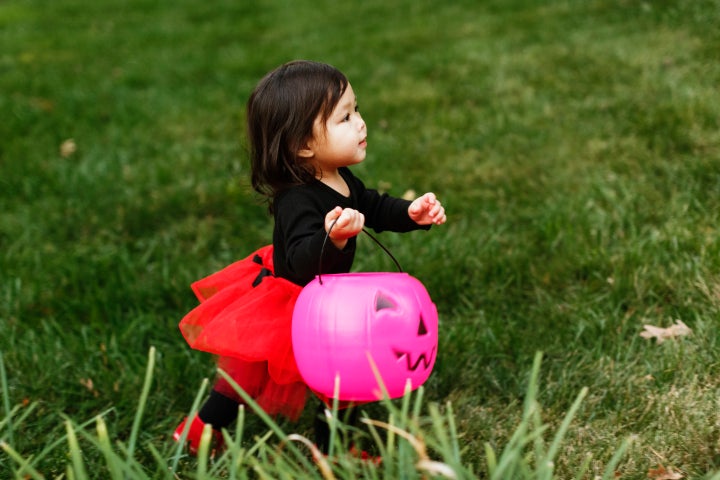 'Ween Dream is a similar nonprofit dedicated to making sure every kid who wants to dress up for Halloween has the opportunity. In 2012, Kelsey Meeks teamed up with a local organization in Louisiana to collect and donate costumes for kids, and two years later, she started 'Ween Dream. Meeks said the organization has donated to kids in 38 states this year alone.
The nonprofit sees the biggest booms in used costume deliveries to its Louisiana storage space address in the first few weeks after Halloween as well as in the spring. The organization aims to help many people, including families living at or below the poverty level or families affected by "a traumatic event" like a natural disaster. Earlier this month, the 'Ween Dream team sent costumes to Panama City, Florida, for families impacted by Hurricane Michael.
'Ween Dream also has a feature called the Pumpkin Patch, a project in which people can sponsor children and buy them brand new costumes. This includes kids that don't have a suitable option available in 'Ween Dream's used costume inventory and children with various medical issues. This means kids with sensitive skin, a weakened immune system, physical limitations or other conditions can have a costume that fits them and their needs.
Meeks encouraged people to donate not only costumes, but masks and dance outfits as well.
"We get requests for dance costumes just as frequently as Halloween costumes," she said. "For kids who want to be ballerinas and dancers, especially if they're living in poverty or at shelters, their families often can't afford to put them in classes."
Try Online Secondhand Stores
Poshmark, a platform where sellers can list gently used clothes for men, women and children, saw a huge increase in kids' Halloween costumes for sale this past September and October. To put your costume listing above the rest, Kate Franco, Poshmark's senior director of brand marketing, advised sellers to upload appealing images, including at least one photo of the costume modeled. It's helpful to include the phrase "Halloween costume" in the item's description as well as the brand, color and the age range for kids who might like and fit into it.
Kids' Halloween costumes sell four times faster in September and October on Poshmark, but don't hesitate to list the item right after Halloween and consider dropping the price since it might not be in high demand, said Franco.
ThredUP is another popular secondhand clothing platform. It allows its users to send in bags of used children's and women's clothing that its team evaluates for resale. The standards are high since the company only accepts about 40 percent of the items in the average bag and either recycles or includes the rest in its Rescues program (unless users opt in to have their unaccepted items returned).
Kathleen Weng, ThredUP's vice president of merchandising, confirmed that the company accepts kids' Halloween costumes year-round, but doesn't accept adults' costumes. She said the outfits must be in good condition with no missing pieces or accessories. Homemade and "violent costumes" (or anything with weapons) are not accepted.
Turn To Social Media
"Last year I sold my old and unused Halloween costumes and was able to make enough money to cover the entire cost of the new ones," she told HuffPost via email.
Blinkhorn said she especially likes the ability to check out prospective buyers' Facebook profiles before accepting sales. She typically sells costumes and accessories like masks for 50 to 60 percent of their original price. To get the highest price for a costume, Blinkhorn suggested that parents save it for the following October, right before Halloween.
All told, in many cases, used costumes can find new life elsewhere. Whether you try out one of these suggestions, add the costume to your kid's dress-up collection, pass it on to another sibling or choose another method, there's often a better place for these outfits besides your cluttered closet, your stuffy attic or a landfill.