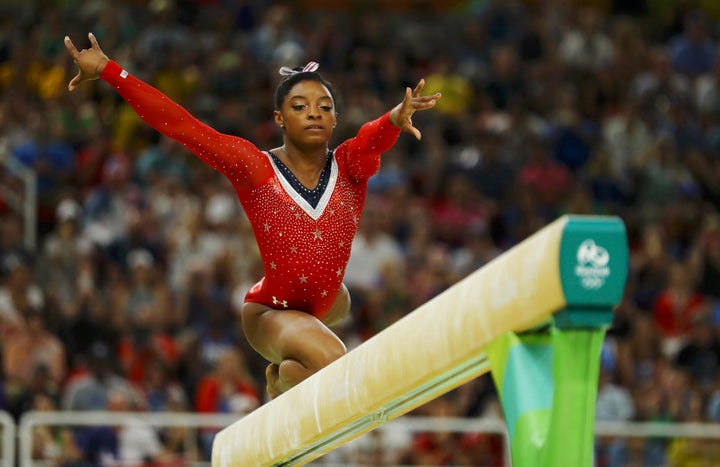 It always happens the same way: every four years, you remember that gymnastics exists and is totally freaking amazing. Simone Biles' vault! Aly Raisman's floor routine! Laurie Hernandez's switch ring leap on beam! Holy crap, this sport is incredible, and you're going to watch every minute of it on NBC, and finally learn the difference between a Yurchenko and a Produnova!
And then ... crickets. The Olympic Games end, the wall-to-wall gymnastics coverage disappears, and you mostly forget that the sport exists. At least, until the next Olympics.
There's no shame in being a four-year fan: for some people, 10 days of gymnastics every four years is more than enough. But if, after watching Biles and the rest of Team USA dominate in Rio, you're craving more and you don't know where to find it, we've got you covered.
"Gymcastic"
This podcast, which bills itself as the most popular gymnastics podcast "in the known universe," is a must-listen for those hoping to learn more about the nitty-gritty of gymnastics. It's not for the faint of heart: host Jessica O'Beirne and her crew of sly, sarcastic, gym-obsessed co-hosts aren't blinded by their love of the sport, and they tackle the dark side of it just as well as the sparkly leotards. They're frank about sexual abuse, concussions, eating disorders and sexism in media coverage. It's not for the faint of eardrums, either: When O'Beirne gets excited about something, she gets loud about it. There's a new episode every week, plus a giant archive of old episodes for you to binge on.
The NCAA
The Olympics only come around every four years, but there's an NCAA season every year. The current top teams for women's gymnastics are Oklahoma, Florida, LSU, Alabama, Utah, Auburn, Michigan, Georgia and UCLA, which means that there's a decent chance you live near a really good gymnastics team that competes pretty much every week from January to April each year, sometimes at home. And when they're away, you can watch them on ESPNU. Lots of former Olympians and almost-Olympians compete in the NCAA, but there are notable differences between college gymnastics and international elite. For one thing, the atmosphere is a lot rowdier. For another, the NCAA still uses the old perfect 10 scoring system ― so if you found all those 15-point-whatevers in Rio confusing and just wanted to see someone score a damn 10, the NCAA is the place for you.
Other competitions that are not the Olympics
That's right, there are international elite gymnastics meets every year that are not the Olympics! There's nationals (P&G Gymnastics Championships), which happens every August (in 2017, it will be held in Anaheim), and the U.S. Classic, currently called the Secret Classic, which happens a few months earlier and functions as a qualifying meet for nationals. Nationals and the Secret Classic are easy to watch on TV in the U.S. The World Championships happen every year except in Olympic years; in 2017 they're being held in Montreal. They're harder to watch on U.S. television, but if you have a VPN and you don't mind the time difference, you can take advantage of the BBC's excellent coverage and informed commentators.
Gymter.net
For meets you can't watch, including ones you've never even heard of, like the Volga District Championships in Russia, the Gymter.net is your one-stop shop for smart and exhaustive coverage. If you're in the mood to fall down a gymnastics rabbit hole, this is the website for you: They do profiles on gymnasts from around the world, they go deep on leotard analysis and they're devoted to answering pretty much any question you ask them about the sport.
And if watching and reading about gymnastics isn't enough for you, take a class!
You can find adult gymnastics classes in New York City, Washington, D.C., Los Angeles, Chicago, Austin, and many other cities across the U.S. As long as you pick a reputable gym, respect your limits and don't push yourself too hard, there's no reason why you can't pick up a few cool tricks on the trampoline or balance beam. Sure, you'll never be Gabby Douglas, but you'll improve your strength and flexibility, and have a lot of fun doing it. Fair warning: you probably won't get to wear a super-sparkly leotard.
But if you really want one, you can buy them here.
For more Olympics coverage:
Related
Before You Go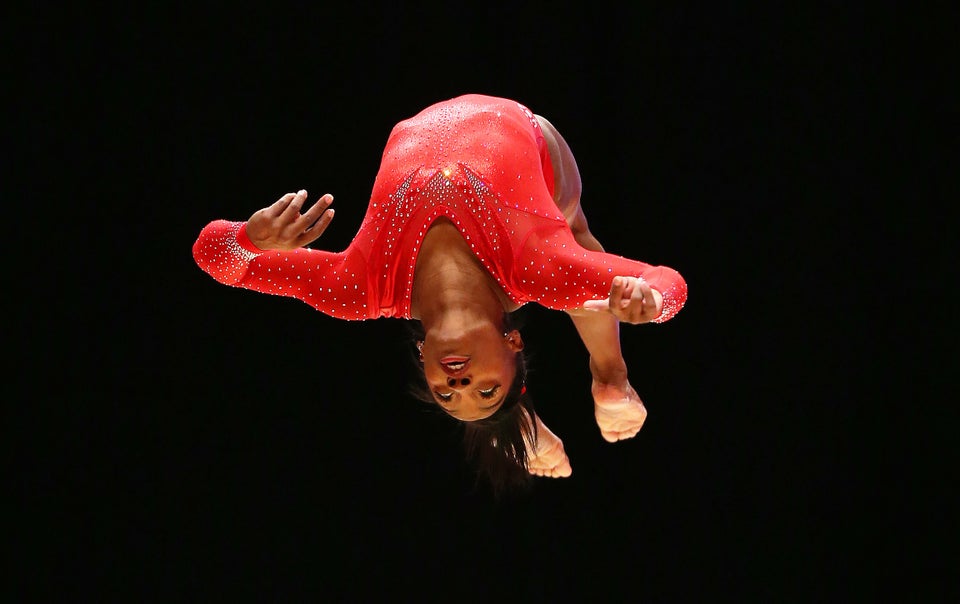 Photos That Prove Olympic Gymnasts Are Actually Just Real Life Superheroes
Popular in the Community