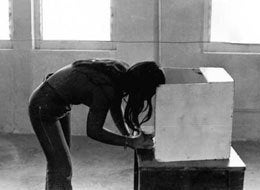 When it comes to selecting which foods to serve election night, there are as many schools of thought as there are positions ranged across the political spectrum.
Whether to chill the champagne before election returns even start to scroll across the TV screen can be a hotly debated topic. To do so could potentially jinx the outcome, according to those for whom superstition rules.
For many Obmaites, the prospect of ingesting any food items while watching what they fear may be stomach-churning returns is unsettling at best.
Says Washington, DC-resident Heather Frank, "I actually think we'll be too nervous to eat, unless it's a landslide." As for Frank's husband, a staunch Democrat, he's "been joking that he has champagne AND hemlock on ice," depending on who snags the presidential win.
"Just the word 'Election Night' makes my stomach hurt," sighs Angelia Herrin of Cambridge, Mass. "My husband's goal is find something to serve that I won't throw at the TV during the evening."
Others are letting their food choices shout out their political views.
"We are having an election night party, and I was trying to think of as
many blue foods as possible," says Helen Steinberg, also of DC.
Blue corn chips, blue potato chips, blueberries, blueberry wine, blue moon beer, blueberry pie, and blueberry ice cream.
Others are fretting over eating the wrong color food, given their particular political persuasion. Chili is on many menus, but will the red-hued dish turn off Obama supporters?
"I'm going to have dinner with an avowed Democrat who is planning on serving chili," concedes Manhattanite Eileen Graham. There will also be salad, brownies and ice cream, "probably all too fattening for Obama," she adds.
As for those voters who have yet to decide which candidate to pull the lever for, the culinary challenges are daunting.
"I'm serving undecided stew," says Virginia resident Joan Knecht. "It's a little of this, a little of that--and hopefully it will all come out tasting good."
Back when the country was young, some colonists would travel extensive distances to cast ballots in elections. To keep up voters' strength, women of hosting towns would serve cakes weighing up to 10 pounds to these voters, men only, of course.
For a video demonstration featuring how to prepare Election Day Cake, visit www.ciachef.edu/ElectionDayCake.
1 1/2 cups granulated sugar
1/2 cup water
1 1/2 cups dried fruit, including cranberries, golden raisins, and blueberries
1/2 cup American whisky
1/2 cup warm water
1/2 cup milk
1 package (3/4 ounce) rapid-rise yeast
1 1/2 cups whole-wheat flour, sifted
2 cups all-purpose flour, sifted
1/2 teaspoon ground nutmeg
1/2 teaspoon ground clove
1 teaspoon ground cinnamon
1 teaspoon salt
1/4 pound (1 stick) soft unsalted butter, cut into cubes
3 eggs
1 cup confectioners' sugar
Combine 1/2 cup of the granulated sugar with the water in a small saucepan. Simmer over medium-high heat until sugar is completely dissolved. Remove from heat and set aside.
Place the dried fruit in a large bowl. Add the sugar mixture and whisky; stir and set aside.
In a medium mixing bowl, combine warm water and milk.
Combine yeast with 1 cup of whole-wheat flour and combine it with the milk mixture. Sprinkle the remaining whole-wheat flour on top. Set aside to allow the yeast to ferment until the yeast breaks through the surface of the flour, approximately 30 minutes.
Lightly spray and flour an 8-inch tube pan.
Sift together the remaining dry ingredients and set aside.
Drain the fruit mixture; reserve the syrup for later use as a glaze.
In a stand mixer fitted with the paddle attachment, beat together the butter and the remaining 1 cup of granulated sugar until light in texture. Add eggs one at a time, scraping down the sides of the bowl with a rubber spatula after each addition.
Turn the mixer to low speed and add the sponge (flour and yeast mixture); mix until fully combined. Add the remaining sifted dry ingredients. The batter will be stiff. Stir in the drained fruit.
Place the batter in the pan, cover, and set in a warm area to allow the cake to rise, approximately 1 1/2 to 2 hours.
Meanwhile, prepare the glaze: In a medium-sized bowl, combine the 1 cup confectioners' sugar and 2 tablespoons of the syrup reserved from the drained fruit. Stir until smooth and set aside.
Bake cake in a preheated 350-degree oven for 45 to 60 minutes, until a toothpick inserted into the cake comes out clean.
Allow to cool in pan for 5 minutes and transfer cake to a wire rack to cool. When cool, lightly brush with reserved syrup, and top with glaze.
Makes one 10-inch cake
From The Culinary Institute of America.