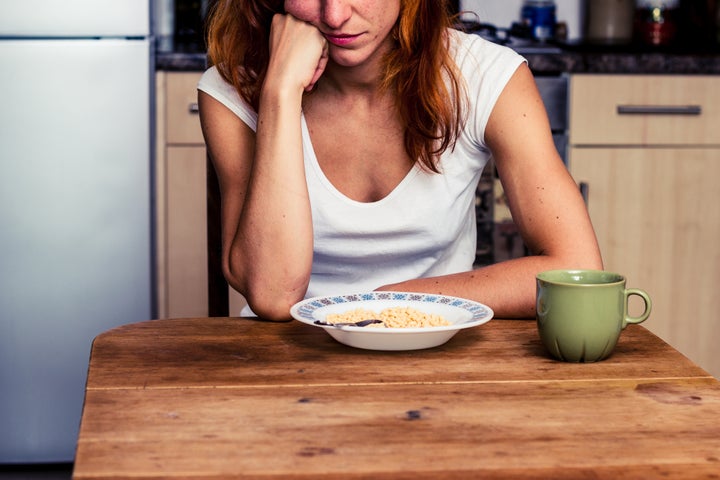 When you're grieving – particularly after the death of a loved one – you might experience decision fatigue. This happens in response to the number of decisions you've been forced to make over a very short period of time, deteriorating the quality of those decisions.
As you can imagine, what you eat – the result of small decisions we make throughout each day – is a common victim of decision fatigue. Suddenly, making "good" choices about what you eat seems strenuous and even debilitating. So you opt out of the decision altogether and forgo eating, or make the easiest and most comforting decision and gulp down an unhealthy meal of French fries and donut holes.
If you're like many of us, you've spent much of your life concerned (or at least conscious) about your weight. Surely when you're grieving, you can put your health on the back burner, right? No way. Unfortunately, those unhealthy food decisions are doing more than packing on pounds – they're exacerbating your grief by sapping any energy you still have, releasing heavy amounts of cortisol, the stress hormone that contributes to weight gain, and leading to blood sugar shifts that make you feel worse.
I wish I could say I knew exactly how to handle my grief when I was confronted with it a few years ago. But after my husband Bill's suicide, I completely neglected my health and body. As a fitness professional, I had practiced healthy diet and exercise for years. But faced with the void that was my husband's death, my healthy eating habits and gym routine went out the window. Instead, I spent hours lying in bed feeling numb and thinking about my husband. It didn't occur to me to eat until my blood sugar was so low I felt lightheaded. By the time of Bill's memorial service, I had lost 15 pounds and looked a decade older.
"Faced with the void that was my husband's death, my healthy eating habits and gym routine went out the window."
Weight loss might sound like a silver lining to a bad situation, but in this case, it isn't. I didn't feel healthy. Instead, I felt weak, drawn and tired. My body was stripped of the vital nutrients it so desperately needed. It took me a good six months to resume my healthy eating and exercise habits. I often think of how much better equipped I would have been to handle my grief had I nourished my body appropriately.
How to eat while grieving
As I said before, this isn't a time when you want to be faced with decisions day-in and day-out. In my book, "What I Wish I'd Known: Finding Your Way Through the Tunnel of Grief," I outline grocery lists and meal plans to alleviate these decisions. Planning is key; if you already know what you're going to eat during the day (and bonus if it's already prepared!), there's no decision required. A few other things I've learned along the way:
Prepare "emergency" frozen meals in advance so they're ready to go when you need something healthy fast.
Use paper plates and plastic utensils if dish-duty seems overwhelming. Eating healthy is more important than reducing your carbon footprint right now.
Try to enjoy cooking. Put on soothing background music and experiment to keep yourself interested.
Eat real food, not processed food. Stock your fridge with fresh produce, leafy greens, nuts, chicken and other protein sources. Avoid boxes, cans and microwave dinners.
Cut back on caffeine, sugary drinks, white breads, alcohol and sweet desserts. They're not going to help you right now.
Plan each day's meals ahead of time (and prep the food so it's easy to throw together or pull out of the fridge). In my book I offer a full week's meal plan. Here's a sample:
Breakfast: egg, spinach and feta cheese scramble
Lunch: large salad with turkey
Snack: apple with almond butter
Dinner: turkey spinach burger with or without the bun, sweet potato and mixed-green salad with dressing
Related