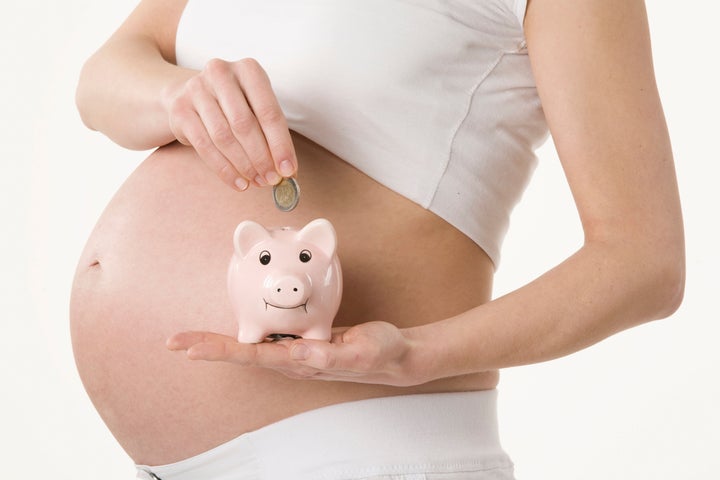 Expecting a baby is an incredibly exciting time in your life, though nine months hardly seems like long enough to fully prepare. Your family is suddenly growing, and with it grow your hopes, dreams, and fears. While you may be overloaded with thoughts about your baby's health, what kind of parent you'll be, and the person your baby will become, one of the most critical (and often, stressful) things on your mind will likely be the cost of raising a child.

As the CEO of LearnVest.com, a site for women and their money, I've thought hard about the long list of questions I'll have when I have a baby -- everything from, "How much do I need to have in savings before my baby arrives?" to "How much does a child actually cost?"
Answering these questions can be overwhelming, but the most important thing is to put a financial plan in place that accounts for your new addition. Take the time to get a full picture of your finances, and you'll be able to enjoy your baby without concerns about money overshadowing this extraordinary moment. Whether you're planning to get pregnant soon or already have a baby on the way, here are five key areas of your finances to start thinking about now:

1. Your Budget
Having a budget is vital to a healthy financial life, regardless of whether or not you're a mom. Know the difference between your necessary and discretionary expenses. What are things you can't live without (rent, food, etc.) vs. those nice-to-haves (eating out, entertainment, etc.)? The way you distribute your income across these spending categories is about to change. While your spending on restaurants might decrease (as you opt for nights in), new budget categories, such as diapers, formula, and babysitters, must be added.

2. Maternity Leave
The best way to figure out your maternity leave plan is to talk to your employer directly. The law requires companies with over 50 employees to give you at least 12 weeks off -- but it doesn't mandate paid leave. While your job itself should be secure, your income may suffer at the precise time your expenses are increasing. The most common reason new mothers return to work sooner than they'd like to is because they can't afford to go without their salaries any longer. Many women choose to take a combination of sick leave, personal days, short-term disability, vacation and unpaid family leave. Sharpen your negotiating skills and figure out what combination makes the most sense for you.

3. Health Insurance
Your health and that of your baby are extremely important right now. For your own insurance, talk to your HR department and ask how things will change when you're pregnant. For example, will your insurance cover pre-natal doctor visits and delivery? You'll also need to contact your health insurance provider to plan for adding your baby to your insurance. Often, your child will need to be formally added within 30 days of birth, but every provider treats this differently (a friend had to add her child within 36 hours!). Figure out your insurance provider's timeline and required forms, so you don't miss out.

4. Childcare
Deciding who will take care of your child -- whether you become a stay-at-home-mom or rely on a daycare or relatives -- is a big parenting and financial decision to make. Luckily, you have some time to think it over. Do your research. Talk to other moms and solicit their advice. Take tours of local daycare facilities. Consider a nanny share, which typically saves 25% of costs. Depending on where you live, the cost of childcare can be pretty hard to handle - but there are a lot of different options out there. Plus, whatever you decide now doesn't have to be forever; you can adjust as necessary in the future.

5. College Savings
Though your child's college education is far down the road, it's not too early to start planning for this anticipated expense. Begin to research the many 529 Savings Plan options out there -- these plans allow you to save tax- and penalty-free, as long as you use the funds towards your child's education. While you can't open a 529 until your baby is born (as you'll need his or her social security number), you'll be ahead of the game if you've already done your research. There are both investment plans and prepaid plans, so look into both options before choosing one.

Ultimately, every life stage we go through comes with its own set of financial challenges. And, having a child is one of the happiest of them all. This list is meant to get you started, as you evaluate your money situation during this special time in your life. Making a financial plan now will make your new arrival that much more joyful.

I'm proud that LearnVest is creating content that helps expectant moms tackle their finances. As much as possible, we hope to lessen the stress during what is said to be such a life-changing time. We're very excited to introduce LearnVest Moms, a free daily email newsletter, that aims to help women manage their households. Plus, we've created a Baby on Board Bootcamp to walk subscribers through all of the financial questions that arise when it comes to having a baby.
Related