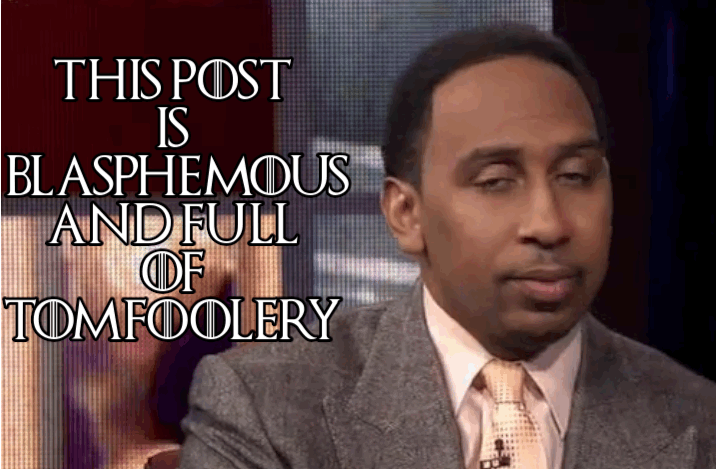 In, what seemed like, the season premiere of "First Take," Stephen A. Smith threatened Kevin Durant after Durant said Stephen A. was lying about him wanting to play for the Los Angeles Lakers. Stephen A. then went on a long rant about his credibility, which he concluded with a dark stare into the camera and a low muttering of "You don't wanna make an enemy out of me." 
Just another bombshell from our favorite soap opera disguised as a sports debate show. Let us not forget it wasn't long ago that we were glued to "First Take" after Stephen A.'s comments on the Ray Rice scandal. Or when we couldn't stop laughing while Richard Sherman, Mark Cuban and others casually dropped in to tell Skip that he's an idiot.
Our sources tell us that this is shaping up to be THE MOST EXPLOSIVE YEAR YET. Here is what we know about the upcoming season of "First Take."
STEPHEN A. - DURANT BEEF: This will be a major storyline for this season. They will continue to trade barbs until the end of the NBA season when Stephen A. demands Durant come onto "First Take" to announce where he'll be playing next year. This will be Durant's "decision" moment. This highly anticipated event will be sponsored by Sparkling Ice (Durant's drink company) and JoS. A. Bank (where Stephen A. get's his suits).
NEW FACES: We understand that Stephen A. will be suspended a week after getting so enraged about the disappointing Knicks season that he tells a certain Knicks rookie to "go back to Russia where you came from!" He'll follow that up by calling for the murder of a Phil Jackson. This will open up his seat for a new ESPN talking head looking to make a splash. Look for the likes of Amin Elhassan or Brian Windhorst to be tapped.
SPECIAL GUESTS!: Busta Rhymes, Mase, and Coolio are confirmed for this season. But don't think "First Take" won't pull from their usual stable of Michael Rapaport, T.I. and Jerry Ferrara.
WILL LEBRON FINALLY DESTROY SKIP?: This is teased every year, but it's worth noting. We all know a YouTube clip reading "LeBron James destroys Skip Bayless on 'First Take'" is dying to be made. However, producers are hesitant to pull the trigger on this because it will certainly mean the end of the show, as they would never be able to top it. But if previous attempts to fake controversy don't ignite viewers, they might have to call in the king.
QUOTABLES: Wheels are turning for some of the most outrageous comments. Skip will downplay the brilliance of superstars like LeBron, James Harden, Marshawn Lynch and Tom Brady saying they are "not Michael-Jordan-level-athletes and therefore human garbage." He will then go on to point out his high school stats, alluding that he himself could perform better. All while championing the return of Tim Tebow stating on the record that he "will return to football greatness and it will shadow Jesus' return to earth." Stephen A. will take the Giants lack-luster postseason as an attack on his personal safety screaming from under the desk, "It's despicable. It's deplorable. It's DISRESPECTFUL what the Giants are doing to me! I fear for my life! What did I do to deserve this kind of display? If the Giants don't change their way ... I might be forced to do something I'll regret. I'm talking to Tom Coughlin. I'm talking to Eli Manning. Don't push me or I will ruin your lives. I'm dead serious." 
If you have tips regarding this season of "First Take," please send them to John.Trowbridge@huffingtonpost.com. All will be checked and reported if credible.
PHOTO GALLERY
Amazing Photos From The 2015 NFL Season
Calling all HuffPost superfans!
Sign up for membership to become a founding member and help shape HuffPost's next chapter