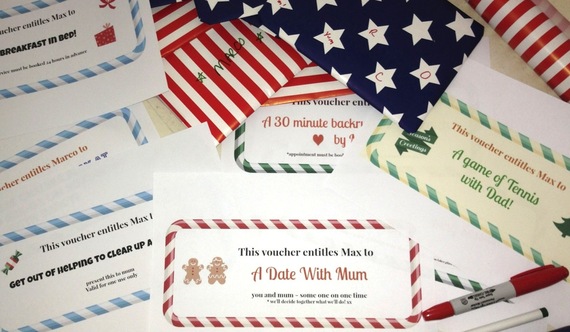 Stuck for what to get your teen or tween for Christmas this year?
Do they already have the latest gadgets and 'must have's'?
Last Christmas I didn't have a clue what to give my teen and tween boys. When they were younger it was easy to buy lots of small stuff plus one big 'star' gift. It gave them the excitement of seeing a load of prezzies under the tree and the fun of unwrapping them all.
But what do you get older kids who've outgrown toys, have plenty of games and certainly don't need any more gadgets?
I put my thinking cap on and came up with an idea.... I wasn't 100% sure if it would go down well, but I had a pretty good feeling about it.
Experience Vouchers they could redeem for a whole variety of things.
I started making a list of what each of them would consider a real treat, then I got to making them. I used the free design app, PicMonkey, to create the fun designs and then printed them out and wrapped them all individually so they'd still have the fun of unwrapping them all.
Breakfast in bed
Change your room around any way you want (with no parental complaining)
Dinner of your choice
Dessert of your choice
Get out of clearing up after a Sunday lunch
A game of tennis with dad
A family game of your choice
A 30-minute backrub
I can't begin to describe how excited they both were as they unwrapped each one on Christmas morning!
And of course, the STAR gift was a date with ME.
My younger son redeemed his for a day with me at the amusement park last summer. It's a good thing I love roller coasters.
My older son redeemed his for a lovely day in town, eating in a fancy Thai restaurant, then off for ice creams and strolling around.
My sons make pretty hot dates.
At the end of the day, most kids would rather have quality time with you than anything else. This is a great way to make that happen.
It truly was the gift that kept on giving as they redeemed them at various times throughout the year.
For younger kids who don't have everything (yet), Experience Vouchers can compliment a gift. A new basketball could be accompanied by a voucher to go shoot some hoops together. A DVD could come with a voucher to watch it together, snuggled up under a blanket with some popcorn. A little spinning disco ball could include plans for a Family Friday Night Home Disco. The possibilities are endless.

Experience Vouchers have reminded our family of how much fun we actually have together - when we make the effort.
This year I'm back to square one. They absolutely loved their vouchers, but I could never replicate the novelty and surprise as they opened them up last Christmas.
If anyone's got any suggestions for me, please let me know in the comments below. Also, tell me if you think you'll be making experience vouchers this year - and what kinds of things you think your kids would love?
Kelly Pietrangeli is the Creator of Project Me, helping mothers set goals and take charge of their own happiness. Her free Project Me Life Wheel Tool is a great way to see which areas of your life could some fresh goals and an action plan. Click here to give the Life Wheel Tool a spin for yourself.