With Thanksgiving right around the corner, CDC officials say they are acting out of an abundance of caution as they investigate. The reported E. coli infections began between Oct. 8 and Oct. 31, but officials said there may be even more because it takes an average of two to three weeks for illnesses to be reported.
No deaths have been reported, although 13 of those affected were sick enough to be hospitalized and one person developed kidney failure.
Here's what you need to know about the outbreak:
What's wrong with romaine lettuce, exactly?
The CDC is still investigating, but the agency announced that E. coli O157:H7, a strain of E. coli that produces a harmful toxin, has been linked to romaine lettuce.
The bacterial strain comes from cow feces and was first recognized as a pathogen in 1982. It contaminates the human food supply several ways, such as through unsanitary irrigation or spraying, flooding, or animals who carry the bacteria onto farmland. A 2006 E. coli outbreak linked to spinach ― which sickened hundreds ― was caused by wild pigs wandering between cow pastures and spinach fields in California.
How do I know if I'm infected?
A fraction of those affected ― 5 to 10 percent ― also experience kidney failure, or hemolytic uremic syndrome, which can be life-threatening. Symptoms include a lower frequency of urination, feeling very tired and losing the pink color in your cheeks, the CDC says.
Most people begin feeling sick three to four days after eating or drinking something that has the bacteria in it, although illness can begin anywhere from one to 10 days after consuming the contaminated food. 
Usually, symptoms clear up within five to seven days, but the most severe cases can lead to death.
I think I have an E. coli infection. What do I do?
Call your doctor, who may ask you to confirm the diagnosis with a stool sample. You are also asked to report your illness to state health departments, which in turn report to the CDC. A list of state health departments can be found here.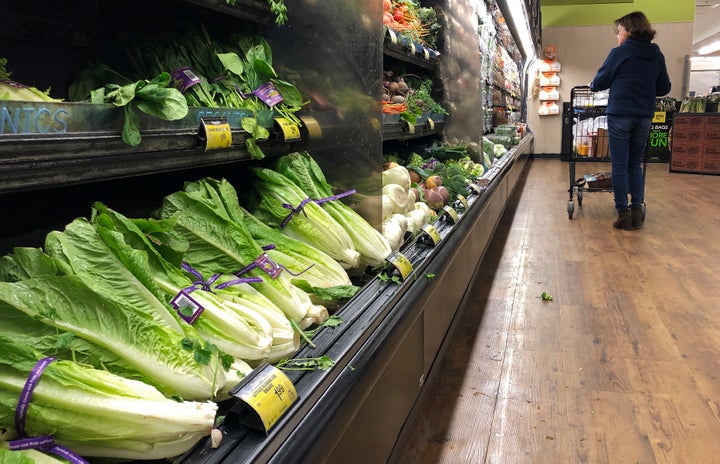 What should I do with the romaine lettuce I have?
Throw it away, the CDC said, even if people in your household have eaten some of it and no one seems to be sick. Baby romaine, spring mixes and Caesar salad mixes could all be affected, too.
Don't order it at a restaurant, either, although restaurants have already been advised not to serve romaine or any lettuce mix containing romaine. 
The CDC also recommends sanitizing your refrigerator by removing all the food, washing and drying removable parts, and cleaning the interior. A guide can be found here.
Where did the outbreak start?
Officials aren't sure yet. That's why the warning covers romaine all over the country.
When can I eat romaine again?
The CDC has yet to identify any grower, supplier, distributor or brand of romaine lettuce common between those infected. Until then, we should all steer clear of it. 
In 2006, officials were able to tell the public which brand was affected (Dole spinach bags) about one week after first announcing the outbreak. 
Calling all HuffPost superfans!
Sign up for membership to become a founding member and help shape HuffPost's next chapter