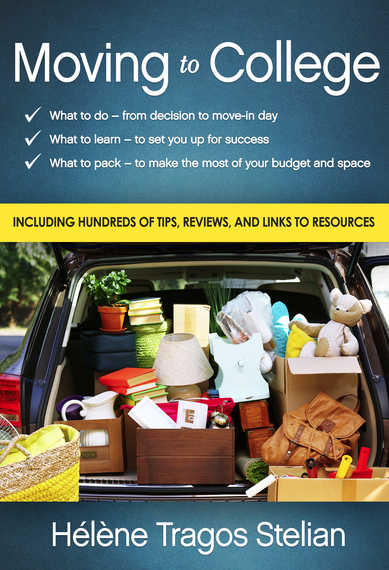 When it comes to packing for your dorm room, keep this motto in mind: Less is best. Dorm rooms are typically very small, including tiny closets, so stick to the absolute essentials (you'll also need to store your stuff in the summers, either through local storage or by carting it back home--one more reason to go easy on quantity).
The following is an excerpt from my new book, Moving to College: What to Do, What to Learn, What to Pack. I've carved out just one category, Closet/Room Storage, of the extensive chapter on packing featured in my book to give you a taste of how extensive and inclusive I've made my lists--not to mention all the wonderful links to product comparisons and reviews I include. This also allows you to see how I've bundled items by "essentials" I anticipate everyone will want to bring and then "extras" that mostly won't be needed. So if you focus on the essentials, then scan the extras, your packing list should be reasonable.
CLOSET STORAGE
There are great products on the market aimed at making the most of that tight closet space. Find out what you can about your closet before investing in one or more of these, or wait until you're in the space to purchase any.
Closet rod expander, tiered hangers - these are great gadgets that maximize hanging space
Hangers in types you need (nonslip shirt, suit, skirt, padded)
Shoe storage: hanging bag, floor shoe racks, or over-door shoe bag
Over door towel rack or J-hook - you'll want somewhere to hang your wet towel after a shower, or a wet coat for that matter
Tie/belt hangers, scarf organizers, hanging jewelry organizer
ROOM STORAGE
Here are products that will help you take advantage of any and all spaces in your room, and add more storage than the typical closet, dresser, and desk afford. Again, the more information you have on your room layout, dimensions, and furnishings, the easier it will be to plan for these. If you have little information, it may be best to wait until you're in the room to gauge your needs, then go out to purchase, but be aware many hot items will sell out quickly in nearby stores.
Bed risers - these raise your bed to make room for underbed storage, but make sure they're allowed and usable before purchasing them (they don't work on bunk beds, trundle beds, or lofted beds); some colleges even have their beds on risers already. If you're raising the bed a lot, you may wish to consider a footstool to help you up into bed.
Underbed lidded bins, storage bags, stacking drawers - for infrequently used items or extra supplies
Shelving for bedside, over the desk, or your walls - some dorm rooms provide these so check first
3M Command Adhesive Hooks - many dorm rooms don't allow you to use nails or screws on your walls; these adhesive hooks are removable and will help you take advantage of wall space to hang coats, umbrellas, purses, etc. Bring a variety of shapes and sizes. To ensure a long-lasting hold, wipe the surface with Isopropyl rubbing alcohol first (buy it in convenient wipes).
Jewelry box or dresser drawer jewelry organizer (unless using over-door version)
Practical Resources include:
A step-by-step list of things to do, from decision to move-in day, such as:
•Booking hotel rooms ASAP for parents' weekend
•Securing scholarship money to close financial aid gaps
•Understanding your health plan options and HIPAA waivers
The life skills every student should learn before leaving home, including:
•Staying safe and handling a medical emergency
•Managing expenses and staying on a budget
•Handling common roommate problems
The most comprehensive college packing list, for every category, featuring:
•Dorm life essentials and what's a waste of money
•Extensive product information and reviews
•Packing and move-in day tips to ensure a stress-free move
Hundreds of resources, with links at your fingertips, including:
•The best stores for college dorm shopping, with tips on student discounts
•Where to buy, rent, and sell textbooks so you never pay full price
•Great books, websites, and blogs for both students and parents
Related
Popular in the Community