When a crisis happens, what do you do next? If you pray, what do you ask for? This poem by Rabbi Jack Riemer, adapted from Likrat Shabbat, gives us some direction:
"We cannot merely pray to You, O God, to end war;
For we know that You have made the world in a way
That man must find his own path to peace
Within himself and with his neighbor.

We cannot merely pray to You, O God, to end starvation;
For you have already given us the resources
With which to feed the entire world
If we would only use them wisely.

We cannot merely pray to You, O God, to root out prejudice,
For You have already given us eyes
With which to see the good in all men
If we would only use them rightly.

We cannot merely pray to You, O God, to end despair,
For You have already given us the power
To clear away slums and to give hope
If we would only use our power justly.

We cannot merely pray to You, O God, to end disease,
For you have already given us great minds with which
To search out cures and healing,
If we would only use them constructively.

Therefore we pray to You instead, O God,
For strength, determination, and willpower,
To do instead of just to pray,
To become instead of merely to wish.
For Your sake and for ours, speedily and soon,
That our land and world may be safe,
And that our lives may be blessed.

May the words that we pray, and the deeds that we do.
Be acceptable before You, O Lord,
Our Rock and Our Redeemer."
I first came across a version of Rabbi Riemer's prayer in Harold S. Kushner's book, When Bad Things Happen To Good People. Kushner wrote that powerful book when he was grappling with his son Aaron's rare and degenerative disease. Diagnosed at age 3, Aaron passed away at fourteen after a tough journey. As a rabbi, Kushner was used to comforting others but found this personal heartache hard to handle. He thought that something like that wouldn't happen to someone so close to God.
Unfortunately, bad things do happen to good people. There are tragedies that are difficult to explain such as sudden accidents or illnesses, natural disasters and attacks on innocent people including the recent horror in places like France, Lebanon and Kenya. When something happens that shatters your life or worldview, it is understandable to become paralyzed and lose faith. There are no easy answers to the big question, "Why?"
Particularly when the destruction is man-made, anger can rise up and it's even harder to move toward forgiveness and compassion. That energy of hate can eat away at your core and affect your mental, physical and spiritual health. Before you succumb to a downward spiral of negativity and despair, sit in stillness and contemplate Rabbi Reiner's poem. Pray for strength and right action, and consider one of Kushner's questions:
"What do we do with our pain so that it becomes meaningful and not just pointless empty suffering?"
Let's turn pain into purpose.
Let's use our free will to choose that which is wise, right, just and constructive.
Let's seek to uplift our leaders, while still holding them accountable for our safety.
Most of all, let's pray for collective healing with hearts that are hopeful and minds that are focused on a shared future of good.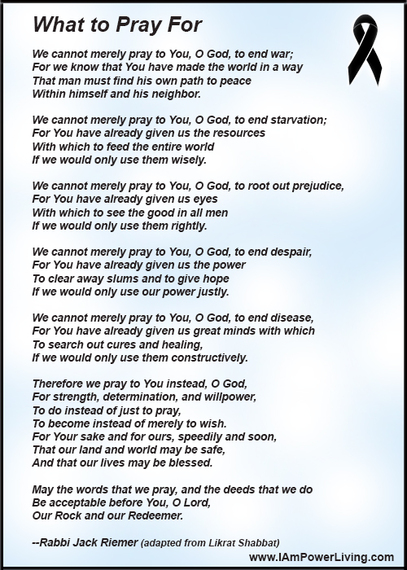 Teresa Kay-Aba Kennedy is a Harvard Business School-trained strategist, wellness empowerment coach and international thought leader recognized as a "Young Global Leader" by the World Economic Forum. After a successful corporate career, she founded the first yoga studio in Harlem. Through Power Living Enterprises, Inc., she helps people live more purposeful and vibrant lives. Called "smart with a heart," she has been featured in media around the world including Oprah's book, Live Your Best Life! Terri's latest book is Dancing Light: The Spiritual Side of Being Through the Eyes of a Modern Yoga Master on 97-year-old yoga master Tao Porchon-Lynch.