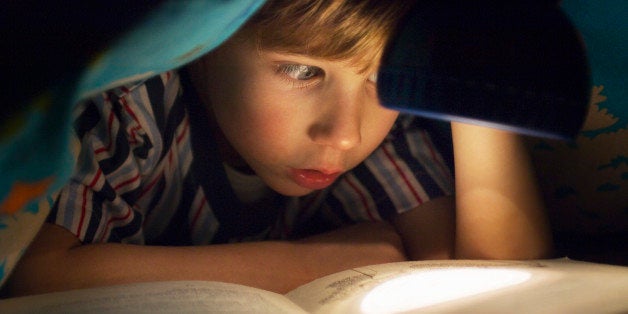 By Regan McMahon, Common Sense Media

Looking for some good reads that go with hot chocolate and lazy vacation days? Check out these picture books for Christmas and Hanukkah, along with stirring novels and nonfiction for tweens and teens.
Click, Clack, Ho! Ho! Ho!, by Doreen Cronin and illustrated by Betsy Lewin, is a holiday romp with the cast of characters first seen in Click, Clack, Moo: Cows That Type. This time the barnyard animals conspire to give Farmer Brown a Christmas surprise, but get stuck -- literally -- and Santa has to bail them out.
Miracle on 133rd Street, by Sonia Manzano and illustrated by Marjorie Priceman, is a sweeping tale of a Puerto Rican family in New York City who save their Christmas Eve dinner from disaster with the help of a diverse crowd of neighbors and shopkeepers.
Oskar and the Eight Blessings, by Richard Simon and Tanya Simon and gorgeously illustrated by Mark Siegel, is the sweet tale of a young boy whose family sends him to New York to escape the Nazis in 1938. He arrives on Christmas Eve, which coincides with Hanukkah, and gets help from New Yorkers as he journeys the length of Manhattan to his aunt's home.
The Naughty List, by Michael Fry (The Odd Squad) and Bradley Jackson, follows a girl's wild journey to the North Pole to get her brother off Santa's naughty list.
The Doldrums, by Nicholas Gannon, is a poignant, wacky tale of three friendless 11-year-olds who find one another and embark on hair-raising adventures as they try to rescue one kid's grandparents, who've gone missing in Antarctica.
The Boy Who Became Buffalo Bill: Growing Up Billy Cody in Bleeding Kansas, by Andrea Warren, is a riveting biography of William F. Cody, who created the famous Wild West Show. Richly illustrated with archival photographs, it's great for kids interested in history.
A Step Toward Falling, by Cammie McGovern, author of Say What You Will, is told by two narrators: a developmentally disabled teen girl who was the victim of a sexual assault and the teen girl who witnessed the crime but failed to stop or report it.
The Rest of Us Just Live Here, by Patrick Ness, focuses on what happens to the "regular kids" in town when the "Chosen Ones" with superpowers start waging battles with vampires and zombie deer. It's a fresh take that spoofs the trend in "chosen one" stories.
The Rap Year Book: The Most Important Rap Song from Every Year Since 1979, Discussed, Debated, and Deconstructed, by Shea Serrano, blends solid music criticism with funny lists drawing from rap's more-than-30-year history. Though there's strong language and edgy references in the lyric quotes, the book is smart and entertaining and a perfect gift for rap-loving teens.


Common Sense Media is an independent nonprofit organization offering unbiased ratings and trusted advice to help families make smart media and technology choices. Check out our ratings and recommendations at www.commonsense.org