Anyone who knows me knows there are very few things I love as much as the fall theater season. There is a ton of new theater, but it's not as cramped and competitive as the spring.

Of course, the season has already crowned one giant hit, Hamilton,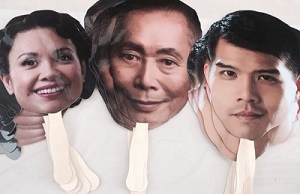 that will inevitably define it. But there is still much to come. Lea Salonga--one of my very favorite Broadway stars--is returning to the New York stage. (On the right there is a photo I snapped at the BC/EFA Flea Market of fans made of her face and the face of Allegiance costars George Takei and Telly Leung. On the back of them, they say: "I'm a [insert person here] fan." And indeed I am a Lea Salonga fan, so there you go. I don't support the hashtag on her fans, but I'm going to let that go for now.) Michael Arden--so wonderful onstage in musicals--is now a director, and his acclaimed production of Spring Awakening, incorporating American sign language, has just opened. Fiddler on the Roof, every Jewish mother's favorite show, is returning to Broadway with 5-time Tony nominee Danny Burstein in the lead role. The Roundabout Theatre Company is kicking off its big 50th anniversary season welcoming two British stars in their Broadway debuts, Clive Owen and Keira Knightley, in two different productions. Stars Bruce Willis and Jennifer Hudson are also making their Broadway debuts this fall. When I was young, I saw Sarah Jessica Parker play a dog in Sylvia off-Broadway. Now the show is back, with recent Tony winner Annaleigh Ashford in the title role and Matthew Broderick (SJP's hubby) and Julie White playing the pup's new owners. James Earl Jones and Cicely Tyson--two legends--return in The Gin Game. School of Rock and On Your Feet!, two big, bright, new Broadway musicals, are hitting the stage.
And there is so much more. I could talk about the fall season column after column, but rather than read my opinion, I decided to ask the producers of this fall's Broadway shows to tell you why you should see their shows. I gave them twenty words or less (excluding show title) to make their case. The below is what they came up with:


Ken Davenport on Spring Awakening, Opened September 27: "Arden's direction and the incorporation of ASL into Spring Awakening is like holding up a magnifying glass to the original."
Roundabout Theatre Company Managing Director Harold Wolpert on Old Times, Opening October 6: "A passionate, disorienting and endlessly compelling Pinter play back on Broadway with Clive Owen making his New York stage debut."
Manhattan Theatre Club Artistic Director Lynne Meadow and Executive Producer Barry Grove on Fool for Love, Opening October 8: "An electrifying modern American classic about a couple who can't escape the intense hold they have on one another."
Bill Haber on The Gin Game, Opening October 14: "There ain't many Pulitzer-winning plays and there surely ain't many legends like our stars. It's a card game that fascinates."
The Producers of Dames at Sea on Dames at Sea, Opening October 22: "See DAMES AT SEA to escape into a world of tap dance and laughter,

a fun-filled celebration of movie musicals."
Jeffrey Richards on Sylvia, Opening October 27: "A sexy, sassy canine (Ashford) invades the life of two empty nesters (Broderick, White). Frisky fun by A.R. (Love Letters) Gurney."
Harold Wolpert on Thérèse Raquin, Opening October 29: "A thrilling collection of firsts: a newly commissioned, sexy, irresistible adaptation of this play and Keira Knightley's first performance on Broadway."
The Producers of On Your Feet! on On Your Feet!, Opening November 5: "On Your Feet! is full of passion, music, hope and, most importantly, life. All the same wonderful characteristics of the Estefans."


Lorenzo Thione on Allegiance, Opening November 8: "Lea Salonga's Broadway return. George Takei's true-life experience. One family's extraordinary journey. An exhilarating new musical that will inspire you."
The Producers of Misery on Misery, Opening November 15: "Emmy Award winners Bruce Willis and Laurie Metcalf in Academy Award winner William Goldman's adaptation of Stephen King's thriller, live!"
Jeffrey Richards on China Doll, Opening November 19: "Mamet. Pacino. History together on Broadway: American Buffalo, Glengarry Glen Ross. A New Play. Money. Power. Politics."
Andrew Lloyd Webber on School of Rock - The Musical, Opening December 6: "School of Rock resonates because music is a liberating and empowering force for kids. It's great fun with a really lovely story."
Scott Sanders on The Color Purple, Opening December 10: "Three debuts -- Jennifer Hudson, Cynthia Erivo, Danielle Brooks -- in John Doyle's stunning new take on Purple. You just can't!"
Jeffrey Richards on Fiddler on the Roof, Opening December 20: "Tradition. Sunrise, Sunset. L'Chaim. Bart Sher (King and I, South Pacific) gives authentic, invigorating life to a great musical."
Also opening this fall are two London imports -- King Charles III (opening November 1) and A View From the Bridge (opening November 12). Broadway will additionally offer some limited engagement special events this fall: Lord of the Dance: Dangerous Games and The Illusionists - Live on Broadway. Both shows open in November.
Calling all HuffPost superfans!
Sign up for membership to become a founding member and help shape HuffPost's next chapter