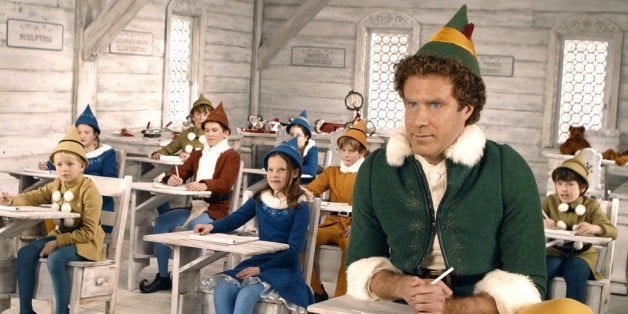 Sure, Christmas is when you carve time out of your busy schedule to hunker down with friends, family and loved ones. But, let's be real. It's also the perfect time to veg out in front of the TV.
From marathons to parades to 24 hours of "Elf," here's a guide of what to watch on TV this Christmas.
Christmas Eve, Dec. 24
6 a.m. Classic Christmas Special Marathon (Cartoon Network)
As part of Cartoon Network's two-day Christmas special marathon, the network will show holiday-themed episodes from "Johnny Bravo," "Tom and Jerry," "The Powerpuff Girls" and more. Check out Cartoon Network's full holiday lineup and set your DVRs.
6 a.m. "Law & Order: SVU" Marathon (USA)
Would any holiday be complete without Benson and Stabler? As usual, USA pulls through with a 10-hour "SVU" marathon.
8 a.m. "Roots: The Next Generation" (BET)
BET will show the entire "Roots: The Next Generation" miniseries from 8 a.m. to 11 p.m. The sequel to the 1977 miniseries follows the descendants of Kunta Kinte post-Civil War.
10 a.m. Winter-Themed Syfy Original Movies (Syfy)
Self-proclaimed geeky families unite! Syfy will show the best of its campy and delightful original movies all day, starting at 9 a.m. Tune in for "Ice Spider," Snowmageddon" or "Yeti." The network has the full holiday lineup at Syfy.com.
6 p.m. "FX Family Animation Christmas Movie Marathon" (FX)
Look no further if you're spending the holidays with your little cousins. FX's cartoon binge watching starts at 6 p.m. on Christmas Eve and continues through till Christmas Day. Check out "Kung Fu Panda" and "How To Train Your Dragon."
8 p.m. "It's A Wonderful Life" (NBC)
Come on. You have to watch it at least once over Christmas.
Christmas Day, Dec. 25
Midnight "National Lampoon's Christmas Family Vacation" (ABC Family)
If you miss the first showing of the Griswolds' Christmas vacation, have no fear. ABC Family will show it three times on Christmas Day.
10 a.m. Disney Parks Christmas Day Parade (ABC)
Neil Patrick Harris, The Wanted, Ne-Yo and "American Idol" winner Candice Glover star in pre-taped segments for Disney's 30th annual Christmas Day parade.
10:30 a.m. "Golden Girls" Marathon (LOGO)
There's really no reason to not watch the "Golden Girls" all day on Christmas.
9 p.m. "Doctor Who: The Time Of The Doctor" (BBC America)
Watch the "Doctor Who" Christmas special, which caps off a two-day marathon of the show on BBC America. The network will show Season 6 on Christmas Eve -- including "Day of the Doctor, the 50th anniversary special -- and Season 7 on Christmas Day. Enjoy, Whovians.
Calling all HuffPost superfans!
Sign up for membership to become a founding member and help shape HuffPost's next chapter
BEFORE YOU GO
PHOTO GALLERY
TV Couples Who Make Us Believe In Love