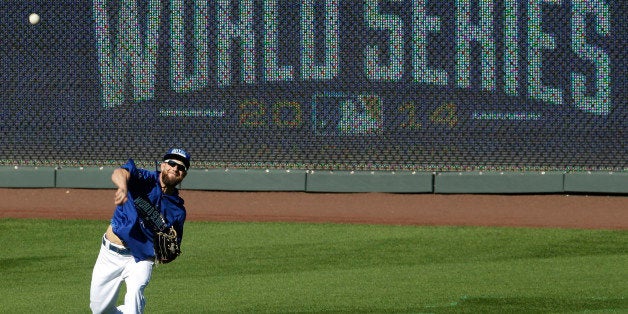 The World Series between the Giants and the Royals is under way this evening. Here is a brief rundown of what to watch for in what might be a series for the ages.
Both sides can straight deal and tonight's matchup between Madison Bumgardner and James Shields will be nothing short of a pitchers duel. Shields doesn't have the ideal post-season ERA and can get knocked around a bit. But he is a workhorse and will give you a solid 5-6 innings in time to hand it over to the Royals' dominant bullpen.
Madison Bumgardner, on the other hand, been completely lights out. His methodology is simple: he pounds the zone with fastballs. He encompasses late-life on his heater which forces many hitters to chase out the zone as seen here on Fangraphs.
Both teams should be evenly matched in this category. Where the Royals lack in starting pitching ERA, they make up for with their bullpen. Per SB Nation, in 17 and one-third innings pitched between Kelvin Herrera and Wade Davis in the 6th and 7th inning, they boast a jaw-dropping 1.03 ERA.
Though the Giants are faced with the absence of Tim Lincecum, their starting staff still consists of seasoned veterans who know how to get the job done.
The Royals have been on an absolute tear this post-season. Eric Hosmer and Lorenzo Cain have a combined .400 BA. Hosmer himself is still on a tangent hitting .448 for the entire post-season with an OPS of 1.314. Lets not forget to mention the entire Royals lineup. They reflect timely hitting top to bottom. Mike Moustakas can unleash his raw power at any point belting four homers through this years playoffs.
What's a World Series without the Kung Fu Panda? He has been the emotional leader of this club and his physical production at the plate hasn't fallen short either. He's leading the team in average, batting .326 with a .396 OBP. His power hasn't been there for these playoffs but he does have four extra base hits.
Buster Posey and Brandon Belt have also been intricate pieces to the lineup. Posey is batting .302 to Brandon Belt's .286. Let's not forget the unpredictable Hunter Pence who can change the complexion of a ball game with one swing of the bat.
The Royals are the KINGS of this category without a doubt, swiping 13 bags to their opponents three. The Giants play your modern day "bag to bag" baseball and possess little speed on the base paths. But what will be the interesting piece of this series is whether San Fran will be able to shutdown the running game or not. They have a former MVP in Buster Posey behind the dish, and it will be exciting to see if they challenge him or not. Especially late in the game when Jarrod Dyson is put in to make some magic happen.
This year's playoffs has been full of them. Not only because the Royals are right where they left off 29 years ago, but the individual success testimonies as well. Lorenzo Cain decided to pick up a baseball in 10th grade after not making the basketball team for his high school. Jarrod Dyson was a 50th round pick from the small town of McComb, Mississippi. Mike Moustakas is finally showing promise after being crowned the next perennial All-Star third baseman in 2007 and not living up to the hype.
Giants Travis Ishikawa was a career Minor Leaguer. He sat on one end of the phone crying to a friend -- unsure if he should keep on pursuing his dream. However, he found himself in the midst of one hitting a walk-off homer to send his team to the World Series. Juan Perez went from "no name" New York City high school player to playing a profound role in the giants success.
Each of these teams has something to say in every category. It should be a fun one to watch.
REAL LIFE. REAL NEWS. REAL VOICES.
Help us tell more of the stories that matter from voices that too often remain unheard.