It's not surprising that the spotlight is on Don Blankenship's campaign for the GOP nomination to challenge Democratic Sen. Joe Manchin in West Virginia. The ex-con coal baron, who served a year in jail for his role in the deaths of 29 miners, is feuding with Senate Majority Leader Mitch McConnell (R-Ky.), referring to McConnell's wife's family as "China people." One of his Republican primary opponents is calling his parole officer. His campaign is spending more than anyone else on television ads, which range from darkly cynical to outright bizarre.
Beyond Blankenship and the establishment GOP's battle to deny him the nomination, another fight is happening: Democrats appear to be meddling to defeat Rep. Evan Jenkins, a Democratic state legislator turned Republican congressman, in the three-way primary. The Duty and Country PAC, which is run by the Democratic former U.S. attorney responsible for jailing Blankenship, has spent $1.8 million attacking Jenkins and just $47,000 attacking Attorney General Patrick Morrisey, the third GOP primary contender. Their ads attacking Jenkins have aired more than 1,500 times, according to a Republican tracking media buys. Their spots attacking Morrisey have aired just six times. The group has spent more on television ads than anyone involved in the race, except for Blankenship's campaign.
Jenkins' campaign said the meddling proved the congressman was the strongest challenger to Manchin in November.
"Chuck Schumer's super PAC has now spent over $1.8 million against Evan Jenkins in an attempt to rig the primary for Patrick Morrisey or Don Blankenship because they know only Jenkins can win in the fall," said Andy Sere, Jenkins' general consultant, referring to Senate Minority Leader Schumer (D-N.Y.). "After head-faking the press about their true intentions, it's clear they could care less who wins the GOP primary — as long as it's not Jenkins."
There's no conclusive evidence Schumer is controlling the Duty and County PAC ― at least not yet. The group doesn't have to reveal its donors until after election day, but it does share an address with the Schumer-backed Senate Majority PAC. Mike Plante, a West Virginia-based Democratic consultant who serves as Duty and County's spokesperson, dismissed Jenkins' complaints.
"That's a self-serving analysis from a politician known for his self-serving dealings," he told HuffPost.
Both Democrats and Republicans say the race is razor-close, and Duty and Country's large outlay of cash could make the difference. Jenkins has been massively outspent on the airwaves, with his campaign spending just under $1 million, compared with $2.5 million from Blankenship and $2 million from Morrisey's campaign and outside groups supporting him.
While Blankenship was in third place in the polls at the beginning of last week, his share of the vote began rising shortly before last week's Fox News debate, and it continued spiking afterward. During the debate, Morrisey and Jenkins spent most of the time attacking each other, with Jenkins slamming Morrisey's record as a lobbyist and Morrisey ripping into Jenkins' past as a Democratic lawmaker.
"Blankenship is alive because everyone thought he was dead," said one Republican following the race.
GOP polling now has all three candidates with negative favorability ratings among the Republican primary electorate. The establishment wing of the GOP, as well as the White House, is hoping President Donald Trump's Monday morning intervention into the contest, in which he pleaded with Republicans in the state to back either Jenkins or Morrisey, can push a non-Blankenship candidate over the finish line.
"The president has voiced his opinion on the race," said one White House official on condition of anonymity. "I don't think it's insignificant."
The New York Times reported Trump's tweet was prompted by a phone call from McConnell. One national GOP operative said Trump's political operation had recommended the president weigh in as early as last week.
For his part, Blankenship waved off Trump's intervention as the work of establishment operatives falsely telling the president that the ex-con can't win. In an interview with West Virginia MetroNews, he said Trump's Twitter missive might cost him a point or two but his internal polls had gone up by double-digits.
West Virginians "will vote for Trump's policies despite being told by the establishment that I can't win," Blankenship said.
Establishment Republicans, meanwhile, are preparing to extricate themselves from the race against Manchin if Blankenship pulls out a primary victory. "You'll see a similar response to what happened with Roy Moore," said national GOP operative, referring to decisions by two McConnell-controlled groups ― the National Republican Senatorial Committee and Senate Leadership Fund ― not to back the former Alabama Supreme Court justice after he was accused of inappropriate sexual behavior with teenage girls.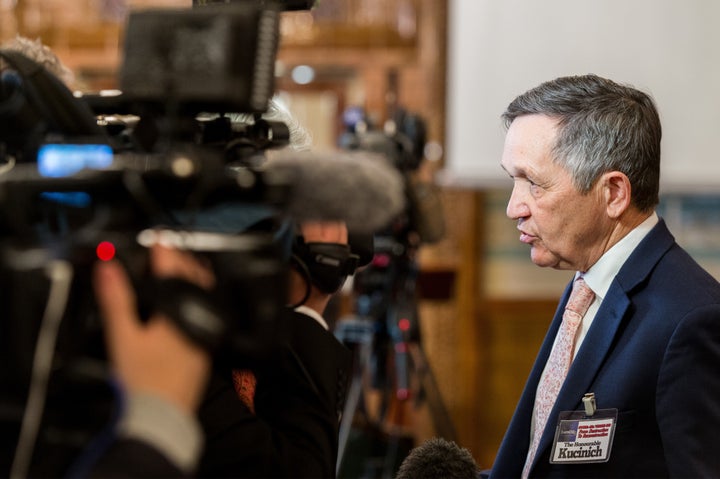 Dueling primaries in Ohio
Across the Ohio River from West Virginia, voters will choose gubernatorial candidates in both parties for the first time since Trump's surge in the state in 2016. On the GOP side, Attorney General Mike DeWine is expected to triumph over Lt. Gov. Mary Taylor after a primary in which the two sides combined to spend nearly $10 million.
The Democratic primary, between former Consumer Financial Protection Bureau head Richard Cordray and former U.S. Rep. Dennis Kucinich, could be closer, though most Democrats still expect Cordray to triumph.
Democrats in both Ohio and the District of Columbia are continuing to worry about Kucinich's chances in the general election, particularly citing his ties to Syrian President Bashar Assad. Two of his television ads illustrate the yin and yang of his appeal. In the first, Kucinich speaks direct to camera about why he supports Medicare for all, a major progressive priority and a reason he could triumph in the primary.
"No one should ever lose everything they worked for to pay medical bills," Kucinich says in the 30-second ad.
In the second, he brings out Rep. Tulsi Gabbard (D-Hawaii) ― who has her own ties to Assad ― to testify on his behalf, inadvertently highlighting a general election liability.
The Other Three-Way Senate Primary
While the West Virginia contest has drawn more attention, Indiana's Senate primary between Reps. Luke Messer and Todd Rokita and businessman Mike Braun might be the better indicator of where the party is going.
Braun, who's pitched himself as an outsider in Trump's mold, is considered the front-runner. But his opponents are attacking him for his history of voting in Democratic primaries, which they said led the Republican National Committee's voting database to label him as a "hard Democrat." (Braun said he voted in Democratic primaries to influence local elections.)
Messer's campaign accused Braun of "colluding" with the RNC when the voting database labeled him a "hard Republican" after a weekend of stories on the issue.
"Mike Braun is so embarrassed of his past voting record as a Democrat that he's using money and connections to cover it up. This is the swamp Mr. Braun talks about at its worst," Messer campaign manager Chasen Bullock said.
A New Pence Rises
Greg Pence, the vice president's brother, has run a relatively quiet campaign for the GOP nomination to replace Messer in Indiana's 6th District. Pence is expected to easily claim the nomination anyway. The district is solidly Republican, so Pence should waltz into Congress.
The GOP Establishment Aims At A North Carolina Thorn In Its Side
The GOP establishment is again trying to unseat Rep. Walter Jones from the Eastern North Carolina district he's held since 1994. Jones, a Republican with heterodox libertarian leanings, has been a target ever since he became a staunch opponent of the Iraq War and a bigger one after he voted against the GOP's tax cut law. He defeated former George W. Bush aide Taylor Griffin in both 2014 and 2016, and now faces a challenge from Scott Dacey, a lobbyist who has received support from former Mississippi Gov. Haley Barbour and Bank of America's political action committee.
Jones is expected to win in what he says will be his final run for office.