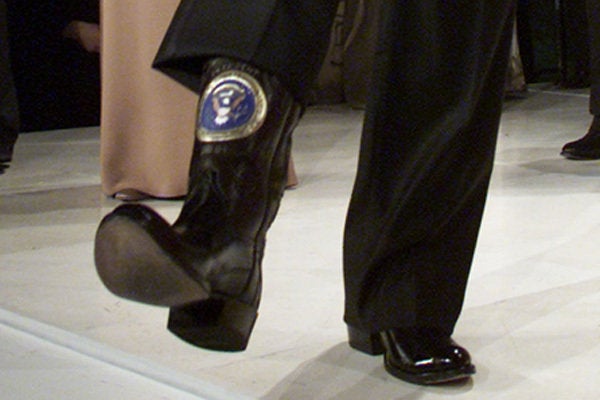 What to wear to the momentous inauguration of our 44th president? Sure, it's one of the most historic days in the chronicle of our great nation and a sizable slice of our country is more excited about this than they were about their own weddings, but no pressure at all! On January 20th, all eyes will be on fashionably-challenged Washington, and this time they won't be crying over four more years of string ties and Stetsons.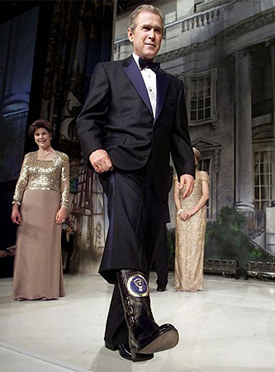 If you are completely unhinged like myself, and have decided that this groundbreaking swearing-in ceremony cannot happen without your presence, then get ready to look uglier than you ever have before. The weather will most likely be cold enough for us to channel Brian Boitano and ice skate our way to the national mall, and the population of our capital city will be six times what it should be, making it possible for you to relive your days sweating in a mosh pit to the relaxing sounds of Megadeth.
So what does one wear to be sandwiched between total strangers for hours while craning your neck to see a Jumbotron in sub-zero weather? Clothing you never want to see again. Don't mind if a reveler accidentally flambés your parka? Then by all means wear it. And then throw another one on top for good measure. Spent your entire month's salary on stilettos so fabulous you had them sewn to your feet? It's time to cut them off and wear the sensible shoes favored by nuns and your Aunt Mildred.

The official government-run inaugural website does not give fashion tips, but they do remind Obama groupies to leave the family poodle at home. They also forbid you from bringing your lucky laser pointer or a stroller. Might be time for baby Benji to start his liquid diet. The website also points out that our nation may have trouble sharing an ideology, but we sure are ready to share the same bathroom. Haven't wet your pants since the first grade? Well, get ready to relive that experience on this historic day! With the one port-a-potty per zillion people, it might be wise not to drink any liquid, unless you're okay with having your posterior on YouTube.
As evening sets in and you're ready to cha-cha for change, there are a few things to keep in mind so as not to scare us Washingtonians. If your planned outfit is considered fashion-forward in New York City, think again. High fashion in Washington means wearing an earth tone. If your togs are considered cutting edge in your hometown of Duluth, then by all means, strap them right on. That said, many are suggesting that women wear a flat shoe to dance in a new era. To this I say, let them eat cake. We may be fashionably-challenged, but I don't support a flat tax and I don't support a flat shoe for evening.
The next rule of thumb is to wear fur with caution. You could be attacked because the sozzled crowd thinks you're Sarah Palin trying to be "just folks."
As for your actual gown, it's nice to take a cue from inaugurations past (see a slideshow), but choose your inaugural role model wisely. Lady Bird Johnson wore a yellow silk gown by John Moore and had the fashion world wondering why oh why did she settle on a dress the color of a ripe banana.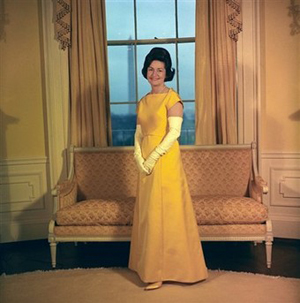 (Courtesy of the LBJ Library)
Barbara Bush wore her signature pearls and a royal blue square-neck gown by Arnold Scaasi, who dressed first ladies from Mamie Eisenhower to Laura Bush. If you are patriotism incarnate, then Barbara's your gal.
You may choose to channel the hard economic times by donning frugal duds like the penny-pinching Carters did. President Carter was sworn-in wearing a $175 suit. His wife Rosalynn, lucky gal, got to stand by her man in an off-the-rack Mary Matise for Jimmae dress she had previously worn to her husband's gubernatorial festivities. If anyone makes fun of your well-worn wears just call it "Carter Chic" and be on your way.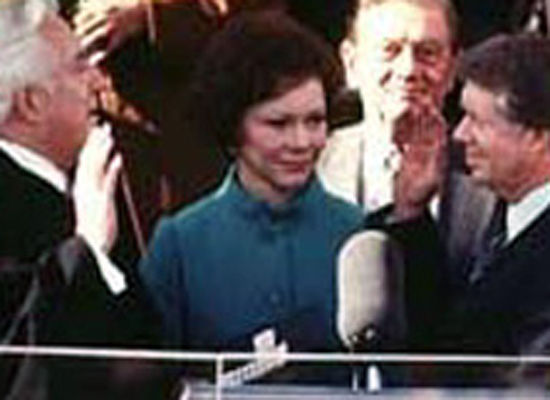 Rosalynn Carter watches her husband take the oath of office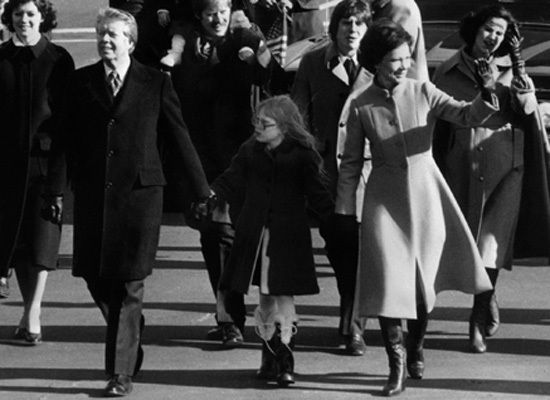 The Carters walk in the inaugural parade
As we saw at the Golden Globes, one-shoulder gowns are so in vogue that the women of America should all start doing one armed push-ups. Nancy Reagan was a zealous fan of the cold shoulder gown and wore one to her husband's first inauguration. It's fine to do the Nancy and bare just one shoulder, just try to do it with a smaller price tag. Nancy's inaugural wardrobe was estimated at $46,000.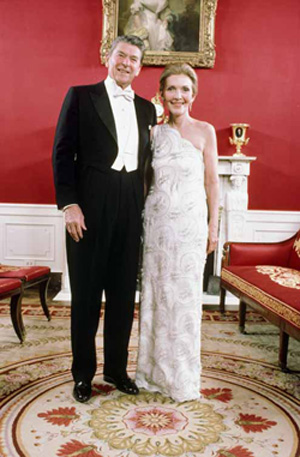 (Courtesy of the Ronald Reagan Library)
As for the men folk, yes, your black-tie lives are astoundingly simple. Throw on a tux and the world's your oyster. But remember, this is a town where Nancy Pelosi is considered to have the same fashion clout as Anna Wintour. Please don't unnerve us by being a maverick and reaching for the white, jewel-toned, or denim tuxedo. The sharp shooters may be tempted to take you out, as clearly you serve a health risk to the new president.
Whatever you wear, remember, it's been a long eight years, it's time to say goodbye to cowboy boots and hello to Chicago-designed suits. The future is finally here.