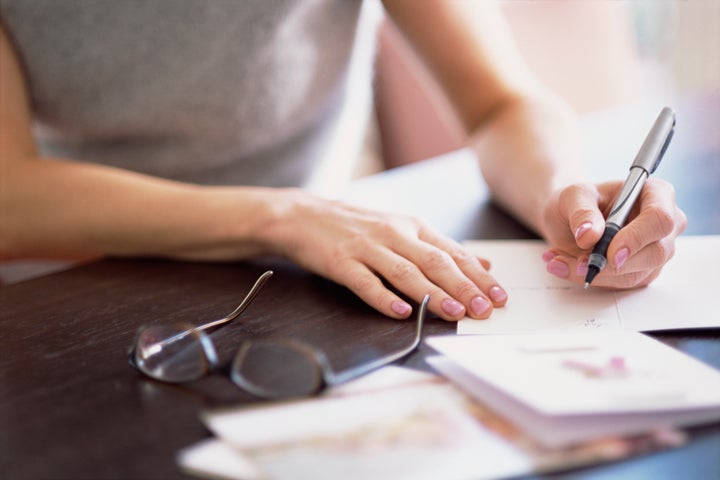 After the holidays, a wedding, a birthday, or another similar life event, writing out thank-you cards might be the last thing you want to do. That's why we turned to etiquette experts to learn how to quickly and thoughtfully write a thank-you note, and, most importantly, make your card original.
Deciding what to put in a thank-you note shouldn't feel like a test.
"Don't overthink it," said Lizzie Post, great-great-granddaughter of etiquette writer Emily Post and co-host of the "Awesome Etiquette" podcast. "Your thank-you note does not have to be anything more than your thanks."
Post said a good thank-you card includes an intro, a greeting or some way of touching base ("We missed you at Christmas this year!"), a clear note of appreciation, a brief description of how you'll use the item or money ("We are so excited to see this houseplant bloom"), and a closing that wishes the recipient well and/or mentions you'll see them in the future.
Have two gifts to mention in one card? Post said that is "absolutely" OK if it makes sense with the occasion.
"I was always taught to write the note out on a regular piece of paper first, or you can type it out if you want," she said. "Write it out first and think about what you want to see, and then transfer it to a nice thank-you note or card."
"I have a template that lets me know who gave me what, along with the particular reason," she told HuffPost. "I create a new list for every special event so I won't accidentally leave anyone out."
Gottsman also noted that if you received money as a gift, there's no need to specify the amount in your thank-you note. A better way to express thanks is to explain how you'll use the money.
"Rather than emphasizing the dollar amount," she said, "highlight the person's generosity."
Be timely when possible, but don't feel discouraged if it takes longer than you expect.
Experts recommended sending a thank-you card within a week of receiving the gift. But if it's been a few more days or even weeks, don't let that deter you.
"A late thank-you note is better than none at all," Whitmore said.
For newlyweds who may have dozens of presents to acknowledge, Post recommended that both partners tackle a couple of thank-you cards a night.
The card should highlight your voice and style, not someone else's.
Our experts preferred handwritten notes for thank-you cards because they offer some personalization while also getting the job done. Plus, who doesn't love opening up a sincere note of appreciation?
Emails are sufficient after job interviews if you know the decision will be made quickly. Gottsman said a handwritten note, though, will make the employers remember you.
Gottsman also recommended personalized stationery for folks who want to add an original touch. Be sure to pay attention to spelling and grammar, she said, but keep the tone "warm and friendly."
"Think about what you would say in person and translate your thoughts onto paper," she said. "Your delivery will be more cohesive and sincere."
Popular in the Community