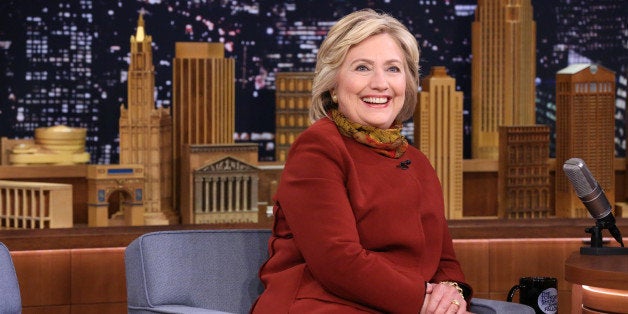 Donald Trump beats China "all the time." Jeb Bush eats nails for breakfast (with a heaping side of bacon). Rand Paul apparently wants a WWE-like rumble with his fellow Republican candidates.
Guys, we get it - you're tough.
The hyper-masculinity that has taken over the Republican race for president clouds the conversations we need to be having on the campaign trail, on the debate stage, and on the Sunday-morning talk shows. With national security in the forefront of so many voters' minds, it's no surprise that candidates are putting their manliness on display. (Perhaps this is what talking heads mean when they talk about playing the gender card).
As candidates perform in their last debates this week before voters go to the polls in the game-changing states of Iowa and New Hampshire, I hope they'll remember: Talk is cheap.
Voters expect more than shouting and chest-thumping from candidates vying to become Commander in Chief. What we don't need? Candidates that engage in caveman communications. In today's complex world, we need a candidate who shows grace under pressure, who has the tested temperament necessary to keep it cool in the hottest debates. No small feat. And let's remember that as often as women candidates must watch their tone lest they be called "emotional", the anger and annoyance we've seen in men are emotions, too.
Barbara Lee Family Foundation research underscores the subtle but significant distinction between being tough and being strong, particularly for women candidates: Voters see toughness as something external, something based on actions. Strength, on the other hand, is an extension of character, a reflection of values. As Republican candidate Carly Fiorina said in the last GOP debate of 2015, "Talking tough is not the same as being strong."
Two decades of my foundation's research on women running for executive office tells us that women consistently have higher hurdles to clear than men. There is, however, a clear path for women to demonstrate their strength. Having clear stances on issues and solid debate performances, showing accomplishments, and standing up to reporters in contentious situations can all help women candidates prove they are strong enough for the job - no bullying required.
Strong is saying "women's rights are human rights" while in a country with a horrific human rights record, not saying "Hell yeah!" when asked about killing an infant Hitler. Strong is bouncing back from a fierce primary loss to campaign for your opponent and inspire party unity, not making fun of another candidate's shoes.
Strong is sitting through an intense 11-hour Congressional hearing without breaking a sweat, not fussing over a three-hour debate. Strong is taking a stand for America's women and families through detailed policy proposals on equal pay, college affordability, and a cure for Alzheimer's - not proposing to exclude orphan refugees from seeking safety in our country.
While some men are turning up the volume on their tough-guy rhetoric, women candidates must carefully navigate the tough-strong paradigm - personifying both grit and grace.
Calling all HuffPost superfans!
Sign up for membership to become a founding member and help shape HuffPost's next chapter