When you're planning a big trip, the destination is perhaps the biggest decision to make. Do you want to jet off to a tropical paradise or are you in the mood for some mountainous scenery? If you're having trouble narrowing it down, think about who you're traveling with – this can be a deciding factor on where to set your sights.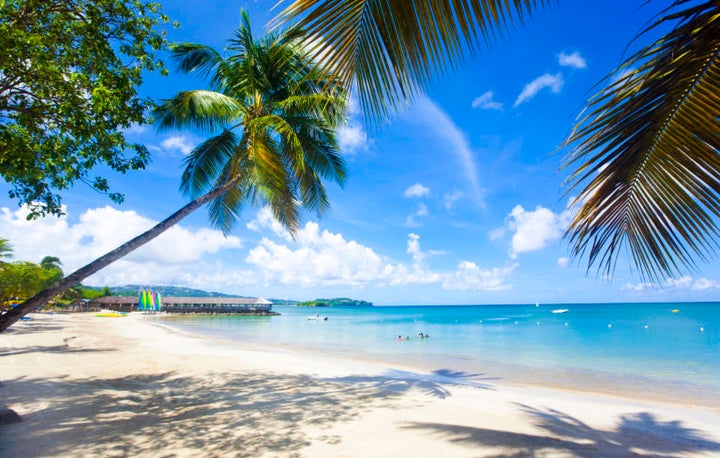 If you're vacationing with a group of friends, it's important to settle on a place that will satisfy everyone's preferences. "St. Lucia is a great destination for groups of friends that are looking to mix relaxation with exploration," shares Rebecca Hochreiter of All Inclusive Outlet. "With hot springs and exotic sites aplenty, your itinerary will definitely be filled!"
If everyone shares the same interests and desires (say adrenaline), then you're in luck – planning just got a whole lot easier! "More adventurous folks will love the appeal of Turks & Caicos, which boasts a vibrant underwater world for snorkeling and scuba," says Hochreiter. "For an extra unique experience, Club Med Turkoise is an all-inclusive resort that includes water sports and circus activity classes in the flat rate."
There's nothing quite like getting away with the whole gang, but it does take some extra planning to find a place that will be suitable for both Grandma and the little ones. There are family-friendly resorts in most destinations, but there are some that stick out as extra special.
"Costa Rica, in particular, is great for family bonding, as there are plenty of opportunities to observe wildlife - both on land and in the sea," explains Hochreiter. "Between active volcanoes and vibrant rainforests, the opportunities are limitless! Cancun is another popular option - although known for its nightlife, the beach town offers a diverse spread of activities for people of all ages, from spas to water sports to ancient ruins."
It tends to be easier to plan when it's just you and your honey – surely you want a great room on a beautiful property, but it's much simpler to agree on activities for two instead of a large group. "If you're looking for a romantic getaway, look no further than the shores of Jamaica," encourages Hochreiter. "The island has plenty of options for adults-only resorts, which are perfect sites for couples' massages, relaxing poolside and adventuring with your other half. Negril and Runaway Bay are popular destinations in Jamaica and can provide all of the privacy and relaxation that you're looking for!"
Of course, when you're traveling on your own, you are free to head wherever you want. Ever dreamed of booking it to Hawaii? Or, perhaps, you've always imagined yourself in Tuscany? Wherever it is, choose a place that will fulfill what you want from the trip. "The sky is the limit when you're traveling solo," expresses Hochreiter. "Any destination is a great choice, depending on what your interests are and what you plan to do on the other side. Create a list of places and find your top choice resort in each destination - it'll make it easier to compare properties and pick the one that best suits your desires!"
The real question is –- what are you waiting for?
Amanda Zack is a proud millennial and wedding PR specialist with OFD Consulting, based in Richmond, VA. She also serves as a Public Relations adjunct professor at her alma mater, Virginia Commonwealth University. Inspired by the power of words, she is an avid storyteller with a love for animals, weddings, and anything else that elicits a smile.
Related
Popular in the Community