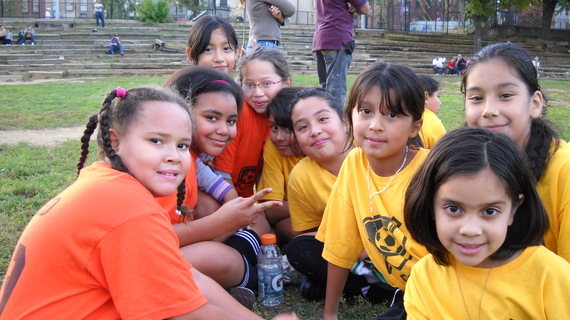 We adults can pontificate all we want, but the thing that should matter most in youth sports isn't the sport, it's the youth. So what do kids think? Last month at their Project Play Summit, The Aspen Institute posed that very question to kids, including 13-year-old Madalin.
Madalin grew up cheering on male soccer stars on TV, but never even considered she could play soccer until DC SCORES, a sports for social change nonprofit that runs free soccer leagues for low-income D.C. kids, recruited at her elementary school. Even then, Madalin was a reluctant soccer player. She described herself as "terrible," the kid who everyone would look at and think "oh man she doesn't know how to play, she's going to make us lose the game, right?" Her friends were "scared to join the team because they [thought] they'll be made fun of because how they play." Much to her surprise, Madalin's DC SCORES coach patiently helped her learn the sport, and her DC SCORES teammates encouraged her to stay, despite her being a liability on the field.
The benefits of kids playing sports are well-documented -- from improving physical fitness to learning how to be part of a team to developing resilience, persistence and leadership skills. Yet, youth participation in sports is on the decline. According to The Aspen Institute's Project Play, regular sports participation by kids ages 6-12 declined from 44.5 percent to 40 percent between 2008 and 2013. That's 2.6 million fewer kids playing sports in just five years! Introducing sports to kids like Madalin -- kids for whom sport is new; kids who have little access to sports; kids whose parents may see little or no value in them playing sports -- is a fragile exercise. A coach with the wrong priorities or disrespecting peers can quickly kill a kid's motivation or demolish their self-worth, so much so that a kid may never play a sport again.
That is why coaches trained in positive youth development and a team culture that emphasizes sportsmanship as much as winning is so important when introducing kids to sports. At DC SCORES, we don't just talk that talk, we walk that walk. Our soccer curriculum is built on positive youth development principles. The mandatory training we provide our nearly 200 coaches is built on a framework of teamwork, leadership, and commitment We also require all of our staff to go through positive youth development training, so they can effectively support our coaches and bolster on-field efforts.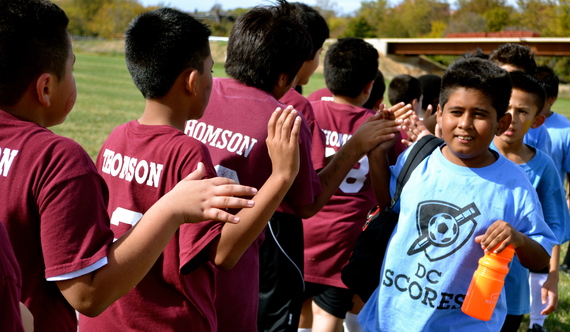 We reinforce that culture on-field. Every DC SCORES soccer game, regardless of age of kids or level of competition, starts and ends the same way. Each game kicks off with a DC SCORES staffer, referee, or alum pulling both teams together, centerfield, for a fun, quick sportsmanship quiz and joint cheer. Games end by players and coaches high-fiving the other team. We schedule games and buses so that each school's boys' team can and does cheer on its girls' team every week and vice-versa. Sure, the kids pay close attention to goals during the game and keep track of their team's win/loss record, but they also learn that winning and losing without good sportsmanship simply isn't enough.
Now in her sixth DC SCORES soccer season, Madalin has no qualms about being on a soccer team. When Olympic gold medalist Allyson Felix asked Madalin during the Project Play Summit how she shows people that she can play soccer as a girl, Madalin said simply: "I think my game talks for that."
Whether or not Madalin becomes a star soccer player in high school or beyond, one thing is clear -- because of her inclusion-oriented, sportsmanship-first youth soccer team, Madalin developed both a love of sport and the self-confidence to keep playing. And at the core, isn't that what youth sports is really about?
Related
Popular in the Community