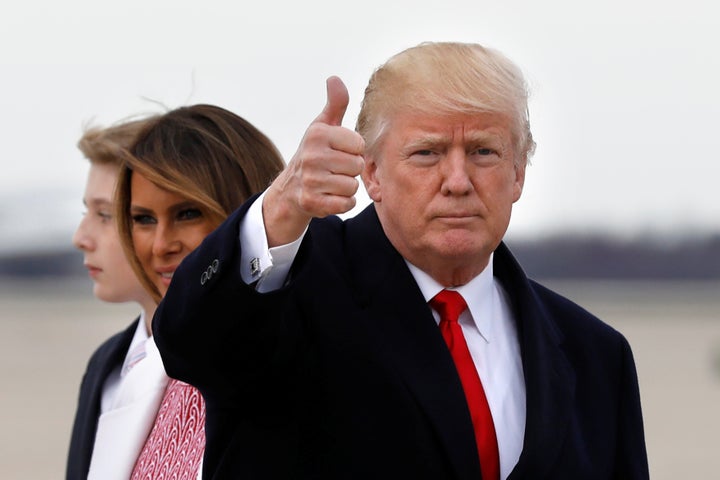 TOP STORIES
Thanks again to Ariel Edwards-Levy and Eliot Nelson for filling in last week ― onto today's headliners.
TRUMP SAYS HE NO LONGER SEES HOPE FOR A DEAL ON DACA "The Democrats blew it," Trump said of the program he ended. [HuffPost] [Tweet | Share on Facebook]
TRADE WAR WITH CHINA ESCALATES As the country announced tariffs on 128 exports, including pork and fruit. [WaPo]
INSIDE THE 'MIRAGE' OF REDEMPTION In the Kushner family's proximity to the White House. [NYT]
SCHOOL BUS-SIZED CHINESE SPACE STATION CRASHES INTO THE PACIFIC The Tiangong-1 had been adrift for years. [HuffPost]
BUY ANYTHING FROM SAKS OR LORD & TAYLOR RECENTLY? The retailers were hit by a payment card data breach. [HuffPost]
ABOUT THAT SINCLAIR BROADCASTING 'HOSTAGE' VIDEO As a reminder, Sinclair Broadcasting owns over 170 U.S. television stations. [HuffPost]
WHAT A YEAR LAST MONTH WAS All the insane things that happened in March. [HuffPost]
IT'S BEEN SIX MONTHS AFTER THE LAS VEGAS MASSACRE That killed 58 and injured over 800, and we still don't know why Stephen Paddock did it. [HuffPost]
WHAT'S BREWING
ALL THE APRIL FOOLS SHENANIGANS ALL THE #BRANDS TRIED TO PULL From the Netflix Seth Rogen absurdity to Snapchat's Russian bot gag. [The Verge]
STEVEN BOCHCO, EMMY-WINNING PRODUCER OF 'HILL STREET BLUES' AND 'NYPD BLUES' HAS DIED He was 74. [HuffPost]
'TRUE LIFE' PREMIERED 20 YEARS AGO Here's how the MTV standard changed 10 cast members' lives. [HuffPost]
SOME ARE WORRIED AIRLINES COULD SET FARES BASED ON YOUR INCOME A few things you can do to prepare. [Yahoo]
BUST OUT THE SCRUBBER Here's the seven things in your home you should clean today. [HuffPost]
BEFORE YOU GO
Calling all HuffPost superfans!
Sign up for membership to become a founding member and help shape HuffPost's next chapter