"This is your country. Cherish these natural wonders, cherish these natural resources, cherish the history and romance as a sacred heritage, for your children and your children's children. Do not let selfish men or greedy interests skin your country of its beauty, its riches, or its romance."
– Theodore Roosevelt, 26th President of the United States, 1901-1909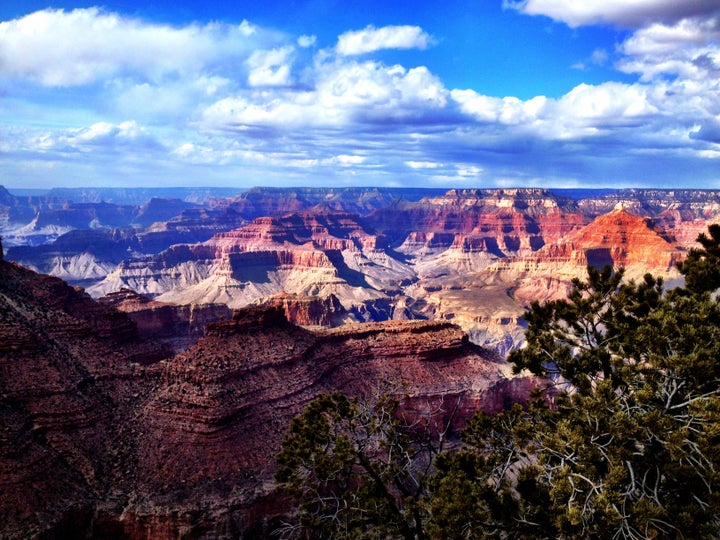 On April 26th, 2017, President Donald Trump issued an executive order, instructing Interior Secretary Ryan Zinke to review 27 national monuments, to determine whether or not past presidents have overstepped their authority by setting aside tracts of land that are too large, thereby preventing private development.
Secretary Zinke is set to provide his recommendation to President Trump by May 26th, 2017.
Which Monuments are at Stake?
Here is a partial list of the national monuments under review: Bears Ears in Utah; Cascade-Siskiyou in Oregon; Giant Sequoia in California, Grand Canyon-Parashant in Arizona; Grand Staircase-Escalante, also in Utah; and Mojave Trails and the San Gabriel Mountains, both in California. For the complete list of monuments, click here.
About the Antiquities Act
Our 26th President, Theodore Roosevelt, established the Antiquities Act in 1906, which gives Presidents the right to create national monuments on federal lands in order to protect "objects of historic and scientific interest." Many of these national monuments later became National Parks, such as the legendary Grand Canyon.
As 93% of Americans support preservation of national parks, this seems to be a non-partisan issue. The American people overwhelmingly acknowledge the need for the federal government to protect and insure access to our nation's greatest landscapes.
What Trump and some legislators DO seem to take issue with, is exactly how much land is being designated as national monument, since the Act states that the amount of land designated should be "the smallest area compatible with the proper care and management of the objects to be protected."
So this is, it seems, is the heart of the issue: have past Presidents, particularly in the last 20 years, designated too much land under the Antiquities Act, beyond the scope that the Act accords them?
Does Trump Even Have the Right to Revoke?
To provide some context: no President in history has ever revoked the designation of a national monument. No President has ever tried to. Which brings Trump's recent actions into question: does he even have the right to do this? The Antiquities Act is brief, and does not specifically give the President this right.
The Antiquities Act gives the President the right to designate national monuments ~ however, it does not implicitly give him the power to revoke them.
What many historians do believe though, is that Trump, or any sitting President, has the right to change the boundaries of existing national monuments. Which is exactly what is at stake right now.
The case of many anti-federalist Utahans (and other states prior) is that these Presidential executive orders are unfairly unilateral, preventing the state from reasonably accessing their own natural resources. And often, it's also the manner in which Presidents have issued these orders, sometimes stealthily, and near the end of their terms, that has caused issue and controversy.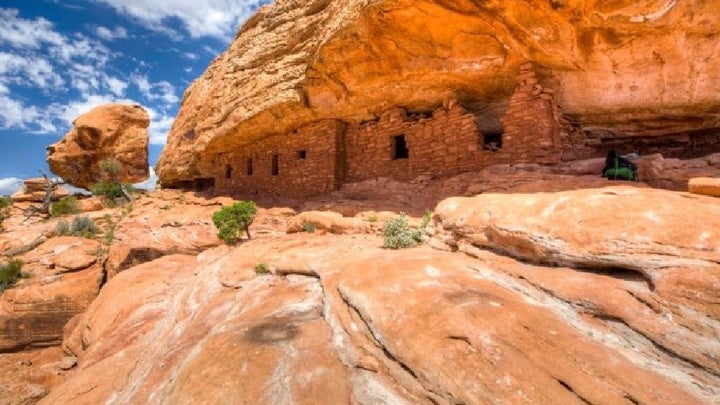 So now, we begin to understand Trump's use of the phrase, "massive federal land grab." In Utah, for instance, 66% of their land is in federal hands. Trump's intent, he says, is to "end these [federal] abuses and return control to the people." By which he means, return control to the states.
One important thing to note though, about the Antiquities Act: it only gives the President the right to designate national monuments on lands already controlled by the federal government. So this "massive federal land grab" Trump refers to is not exactly accurate ~ because in fact, the federal government already owns these lands. What would be more accurate for Trump to say is, he wishes to transfer these lands into state control.
Who is Affected By Bears Ears?
With the San Juan River and Navajo Nation to the south, Lake Powell and Grand Staircase National Monument to the west, Canyonlands and Arches National Parks to the north, and Ute Mountain Tribe lands to the east ~ we're talking about an immensely complicated, culturally-rich, beautiful, but desolate Utah landscape. The kind of landscape the American west is known for.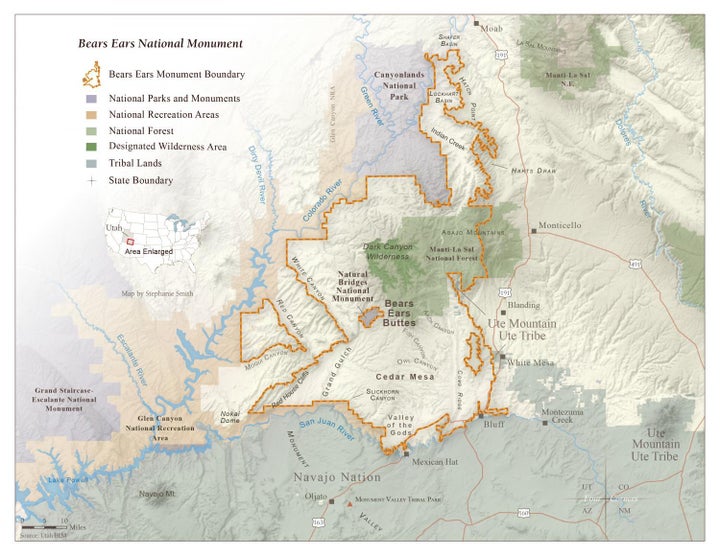 Which also makes it immensely complicated to appease all the various factions who have an interest in this land: from the state of Utah, to the small towns and ranches that populate these areas, to the companies trying to mine coal and other resources, to the Indian tribes who've called these places home for centuries, to the general American public who have ~ as Teddy Roosevelt proclaimed, the right to see these great lands for themselves.
The Conservationists' Viewpoint
Let's pretend that Bears Ears is scaled back, allowing for more mining of the coal that exists there. IF something goes wrong, if there's an accident or a spill, or when the pollution that comes along with coal mining occurs: take a look at that map. Take a look at Bears Ears' proximity to the San Juan River. The proximity to Lake Powell. To Grand Gulch. To the mighty Colorado River. Glen Canyon. Canyonlands. Arches National Park and Moab. And of course, to Bears Ears itself.
What IF something happens? Sure, there aren't many major cities around. But what about all these great rivers and landscapes ~ not to mention, some of our country's most awe-inspiring National Parks? What happens to them if something goes wrong?
Public comment opened on May 12th, and Secretary Zinke is scheduled to give his recommendation by May 26, 2017. So VOICE your opinions now! Don't wait. Below I've listed steps you can take to make your voice heard.
Click here to join the Sierra Club's campaign. You'll be able to message Secretary Finke directly, tweet and share articles from the Sierra Club.
Call 1-202-601-3839 directly and let Secretary Finke hear your opinion regarding the review of these 27 national monuments.
If you're on the side of the conservationists, and believe Bears Ears should be left as it is: text "DEFEND" to 52886. On Instagram, use the hashtag #ProtectBearsEars.
Patagonia has recently announced they are pulling out of Utah's tourism conferences (as have others, to the tune of at least $45 million in losses to the state of Utah), in opposition to the position Utah legislators have taken. Learn more about Patagonia's stance here.
Visit their state government page here. Learn more about Utah's side of the argument.
I've tried to understand where President Trump was coming from when he issued this order. Because there's something very important going on here. The very idea that our wild lands could be threatened, even if there's the slightest chance of it, is a deeply disturbing idea. And it is disturbing, because the truth is: we need the wild.
More and more, our lives grow less wild, more mechanized ~ filled with technology from the time we wake up to the time we fall asleep to a screen at night. Yet, deep down, we all yearn for the tonic that is nature. The tonic that is wildness. Teddy Roosevelt knew this. Thoreau knew this. Walt Whitman knew this. John Muir sure as hell knew this ~ which is why he founded the Sierra Club. All these men knew without question, that when our lives go too long without nature, humans suffer. For it is in our nature, to be in nature. And it's up to us to protect it.
"In wildness is the preservation of the world."
Popular in the Community