Thanks to a convenient confluence of complementary wants and needs, the best time to buy a new television is now, just before the Seahawks-Broncos meet in the Meadowlands on Feb. 2.
On the need side, retailers must rid themselves of last year's TV models to make room for this year's, due to arrive in a month or two. Our Super Bowl want and retailer sell-off need produces an annual perfect storm for some ridiculously good TV deals.
But you don't want to be one of these early UHD adopters.
4K UHD TVs offer four times the resolution of today's HDTVs - 3840 x 2160 pixels vs. the current 1920 x 1080 pixels.
That's sounds great, but it may not look great or, more precisely, different. Because of how many millions of pixels there are in both UHD and HDTV sets and how small each of these pixels are, you really can't discern the difference between a UHD and an HDTV on sets smaller than around 65-70 inches viewed from a normal viewing distance.
Therefore, spending more than five times as much on a 55- or 65-inch UHD is pretty much a waste of money.
Even if you bought a 4K UHD, there's nothing much to watch yet - 4K is literally not ready for prime time.
So, as you can see, currently there is nothing to see as far as 4K UHD is concerned.
If you shouldn't buy a UHD now, when should you?
I'd say in three years, depending.
Within those three years, three things will happen.
First: pricing will come down, especially on UHDs large enough for you to differentiate it from an HDTV, as it does for all new tech, as suckers...er, I mean, early adopters, create a market. In three years, UHDs should be around half the price they are now.
Second: there will be more 4K content, especially streaming content from Netflix. I spoke to the president of the Blu-ray Disc Association at the recent Consumer Electronics Show, and he told me the effort to develop 4K Blu-ray is in its initial phases. If product development follows its usual path, we'll see the first 4K Blu-ray players and movies at CES 2016, maybe. Broadcasters, including cable and satellite providers, however, are likely to be the last to the 4K party, if they even decide to show up.
Third: OLED 4K will become viable. Okay, sorry, this is will take some explaining.
OLED is organic light-emitting diode, a distant relative to the LED light bulbs replacing incandescent and CFL bulbs. OLED for UHD is the ultimate TV technology, superior even to plasma.
LCD TV works on the same principal as film - you have to shine a light through it to see it. LED describes varying types of backlighting solutions for HDTV and UHD, none of which is completely effective at creating deep contrast. Regardless of how dark a scene is, there is always some light leaking through the LCD layer.
OLED TVs, however, require no backlighting - each tiny pixel is self-illuminated. Therefore, when there is a dark scene, individual pixels can be turned completely off. No light means deeper blacks and, like paintings on stygian velvet, popping colors.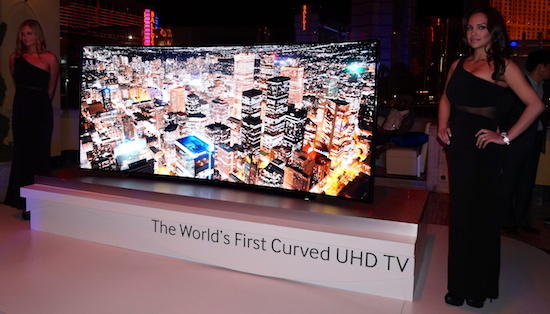 Samsung's 105-inch curved LED OLED UHD with an ultra-wide 21:9 aspect ratio at the recent Consumer Electronics Show. LG exhibited a similar 105-inch, 21:9 curved UHD as well.
Bottom line: Don't be tempted by UHD - yet. You'll be grinning like the Joker after you pick-up a sub-$1,000 50-plus-inch HDTV before the Seahawks-Broncos meet in the Meadowlands on Feb. 2.
Related
Popular in the Community