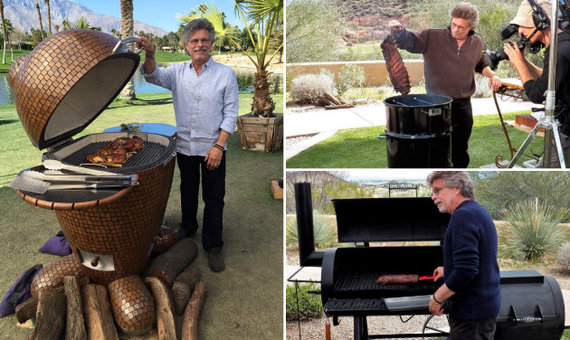 Nearly half of American adults surveyed by the Hearth and Patio Barbecue Association (HPBA) plan to acquire a new grill or smoker in 2016. (That's all?) If you're one of them, read on: Starting with smokers, here's Part 1 of a multi-part series on how to make an informed -- not impulsive -- purchase that will give you years of great grilling and eating and great times.
There are more than a dozen types of smokers on the market and literally hundreds to choose from. Offset barrel smokers (aka "stick burners"), kamado-style cookers, gas smokers, electric smokers, pellet smokers, water smokers, cold smokers -- the list goes on. They range in size from stovetop and handheld smokers to the colossal rigs used by restaurants and competition barbecuers. (The DIY versions, ingeniously featuring everything from garbage cans to propane tanks, deserve mention, too.)
In addition to considering how much you're willing to spend, the maximum number of people you'll be feeding, and available space, it's helpful to first identify your smoking personality. What's your type?
Beginner: You want a smoker that's affordable, easy to operate, and that doesn't take up a lot of space. Good bets include a kettle-style charcoal grill or other grill with a tall lid; a water smoker; a small pellet grill; or an upright barrel smoker, sometimes called a drum smoker.
Apartment- or condo-bound smoker: You love the flavor of smoked food but live in an apartment or condo or in a dense urban environment where outdoor smoking is impractical or prohibited. A stovetop smoker or a handheld smoker are made for you. (My first smoker was improvised from a wok.)
Grilling enthusiast who wants to explore smoking: Grilling is your first love, but you want to try smoking, too. Check out a kettle grill or front-loading charcoal grill; a wood-burning grill; a ceramic kamado-style cooker; or an offset smoker with a firebox that comes with a grate.
Convenience- and results-oriented smoker: You love smoked and barbecued foods, but want the push-button convenience of a gas grill. Consider an electric or gas smoker or a pellet grill.
Process-oriented smoker: You embrace not just the results, but the process of smoking--building and maintaining a fire, adjusting the air vents, and so on. A water smoker, ceramic cooker, wood-burning grill, or an offset barrel smoker would be a good fit for you.
SIGN UP for Steven Raichlen's UP IN SMOKE newsletter to learn more about barbecue!
Steven Raichlen is the author of the Barbecue! Bible cookbook series and the host of Project Smoke on public television. His web site is BarbecueBible.com.