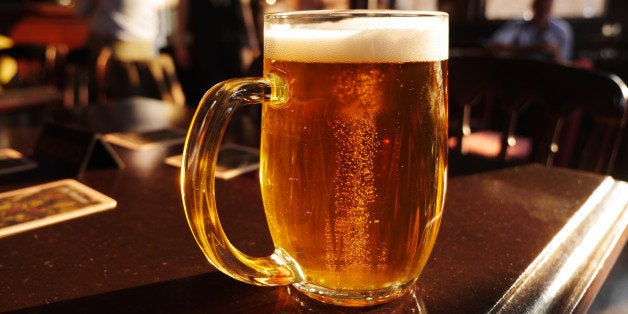 Thanks to four male college students from North Carolina State University, you may soon be able to add a new accessory to your outfit and tool in combating date rape: nail polish.
A new nail polish called "Undercover Colors" will be able to detect date rape drugs by changing colors in the presence of Rohypnol (roofies) or GHB (G-juice), the two most commonly used date rape drugs. To see if one of these drugs has been slipped in your drink, a woman has to stir the drink with her finger. Throw that in with the rape whistle and pepper spray that your mom gave you freshman year and you've got your back-to-school check list covered.
While I applaud their efforts to prevent sexual assault among college students, after reading their product description, it's pretty clear that these male students know little rape culture and even less about plausible solutions.
Sexual assault doesn't only happen at bars. Analysis by the Washington Post in 2012 show nearly 4,000 allegations of sexual assault on college campus with Penn State University (56), University of Michigan-Ann Arbor (34) and Harvard University (31) topping the charts. About 73 percent of sexual assaults are perpetrated by someone the survivor knows, where women are more likely to feel comfortable and less guarded. Alcohol is just part of the problem. Our friends at Feministing remind us that, while the stats might vary, it's pretty clear that "plain old alcohol is the substance most commonly used in drug-facilitated rape."
While well intentioned, products like "Undercover Colors" actually perpetuate rape culture by placing the burden of safety back onto women.
Let's stop getting distracted by gimmicks like this and talk about real solutions to the growing violence against women. Here are three things college campuses can actually do to help keep all students safe.
1. A little rape-culture competency wouldn't hurt. One of the most devastating aspects of rape culture is the rampant victim blaming. We hear it all the time from victims not being taken seriously when they report sexual assault to their university campus to publicly defending accused rapists while denouncing what their victims say. When violence against women is being trivialized and ignored, none of us are safe. Host an on-campus brown bag lunch to talk about how victim-blaming occurs and talk about what we can do to prevent it.
2.Engage men as part of the solution. Are we having those tough conversations with men, who are more likely to be perpetrators of sexual assault against women, about how to be respectful others boundaries, personal space and what consent really means? Hannah Brancato, co-director of FORCE: Upsetting Rape Culture, a sexual assault prevention group, states that for consent to be part of common practice on college campuses, it needs to be incorporated "in the sexual culture on college campuses." This needs to include both women and men. FORCE launched a college-themed guide for consensual sexual activity. Check out the guide here and use it on your college campus.
3.Accountability, please. Schools currently facing investigation for mishandling sexual assault complaints have listed several possibly policy changes, including changes to their disciplinary proceedings where expulsion becomes a possibility for perpetrators of sexual assault. While such policy changes will put more of the burden on the perpetrator, such disciplinary hearings have led to wildly inappropriate questions for survivors and light punishments for perpetrators found guilty of assault, such as expulsion after graduation (who knew that was even a thing). Policy changes need to not only hold the perpetrators accountable, but the school's handing of these hearings as well.
It's pretty terrible that in 2014, that these kinds of products even need to exist, but the reality is that they do exist. Instead of funneling money into making gadgets that help prevent women from being raped, let's talk about solutions to shifting rape culture where consent, on both sides, is seen as the norm.
Related
Popular in the Community