"Vegan" is not a word ordinary Romanians accept lightly, and traditionalists widely reject the concept of "vegan cuisine" as an Occidental influence with no roots in local practice. But change the term "vegan" with "fasting," and Romania becomes a vegan paradise.
Most Romanians, mainly country dwellers and people with basic school education, are blissfully unaware that their diets are mostly vegan. They also don't know that they have a vegan tradition that can be traced back to a time frame between the 13th century and the early 1800s when monasteries in rural areas consolidated the fasting calendar and gastronomy. To this date, a large percentage of Romanian Orthodox devotees fast more than 200 days every year, abstaining from meat and all other products of animal origin.
Main Fasting Periods in Romania
Although it has no official state religion, Romania is in its majority (over 80% of the population) Eastern Orthodox. The Church recommends four main fasting periods during the ecclesiastical calendar:
the 40 days of the Great Lent before Easter;
the fast of the Apostles Peter and Paul from the Monday following All Saints Sunday until the day of the Saints on June 29;
from August 1 to 14, before the Feast of the Dormition of the Mother of God on August 15;
and the 40 days of the Nativity Fast before Christmas.
In addition to these fasting periods, Eastern Orthodox practitioners fast on Wednesdays, to commemorate the day when Judas Iscariot betrayed Jesus Christ, and on Fridays to remember the day of His Crucifixion.
From the above, it is easy to see that vegan food is available throughout the country all year round. But ordering "vegan" in a restaurant, especially in rural areas and the countryside, will simply not do, because people do not understand the term. Vegan travelers are advised to order "fasting" foods, or, in Romanian, "de post." Even they may not be available on the menu; fasting foods are quick and easy to prepare, and Romanians are happy to fix you something. Plus, almost all side dishes served with meats and steaks are vegan, so it should not be too difficult to have a vegan meal at a non-vegan restaurant.
Besides the religious argument, we can also consider economic reasons for countryfolk to practice a mainly vegan or vegetarian diet. In many rural areas, where people depend on vegetable and wheat farming, consuming meat is a once-a-week luxury. Main meals for Romanians who cannot afford meat would consist of ciorba (sour vegetable soup), mamaliga (polenta), vegetable stews, eggplant salad (similar to baba ghanoush, but without tahini), iahnie de post (baked beans without any sausages or other meats), zacusca (a vegetable spread that can be ordered in all traditional Romanian restaurants), sautéed mushrooms or mushroom stews, and the list goes on. Spring and summer menus are rich in leafy greens and fresh vegetables, and you can always find seasonal specials like sautéed nettles with polenta, spinach soup, lettuce soup, and fresh salads.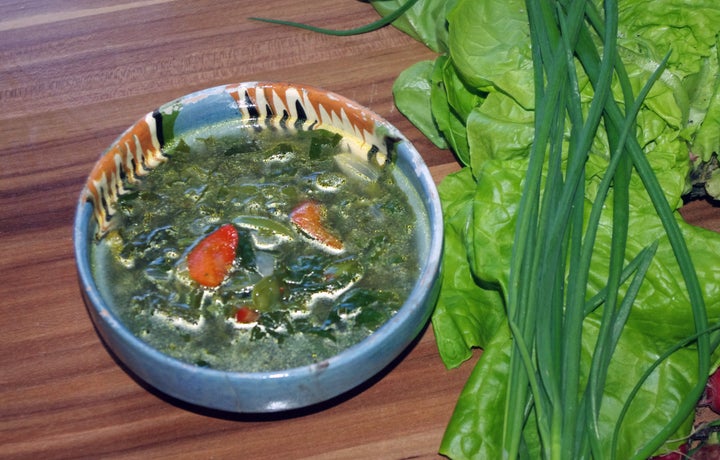 Romanian fasting cuisine has some particularities too: sweet paprika powder, lovage, dill, and parsley seem to be omnipresent in soups and stews, while grilled vegetables are always served with mujdei, a water and garlic sauce that is a traditional staple all over the country. The cuisine is not "exotic," but hearty and filling, and because most ingredients are organically produced in rural farms, despite being simple, the food is delightful. Don't let a two ingredients dish put you off, especially when you dine somewhere out in the countryside.
Vegans can always visit a local monastery to eat a vegan meal – "de post" is the magic phrase here too. Agritourism is another way to enjoy the best of what Romania has to offer regarding natural beauty, heritage, activities, and food. About 48% of the Romanian population is living in a rural environment, and these are the people most likely to respect the Eastern Orthodox tradition of fasting. Agritourism farms and pensions accommodating tourists offer homemade food, which is prepared from scratch with local produce. These are perfect for vegan visitors who can explain their hosts their dietary preferences. Since many people in the countryside do not speak English, "de post" is the best term to make them understand your needs.
Vacation rentals through platforms like Airbnb or others are great for vegans too. These offer excellent kitchen facilities and utensils, and buying fresh local produce from the farmers' markets that are a common occurrence in every corner of Romania eliminates the need for searching restaurants serving vegan food.
Because "vegan" is a relatively new term, and veganism is a young movement, the vegan lifestyle is not a mainstream phenomenon in Romania, but it is being adopted at an accelerate rate by young people who advocate it enthusiastically. Vegan menus are slowly introduced in restaurants in the main cities, like Bucharest, Brasov, Sibiu, Timisoara, and Cluj, and vegan eateries are popping up too, but the menus in most restaurants are still predominantly based on meat. When, for any reason, you cannot find a vegan restaurant or a restaurant with a vegan menu, mentioning "de post" to your waiter before you sit at the table will take you a long way.