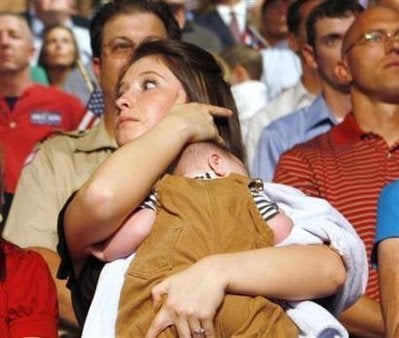 It's hard to imagine that this is how Bristol Palin wanted her senior year of high school to turn out: She's five months pregnant, transferring to a new school away from all her friends, and the father of her baby has posted on his MySpace page that he's a "redneck" who is not interested in having kids.
Pregnancy, a baby, and now marriage probably weren't in her plans before prom. And yet, one night, like hundreds of thousands of other teen girls, she had unprotected sex with her boyfriend and took the risk of getting pregnant. But why? In an age when pregnancy information is a mouse-click away and condoms are available at every 7-11, why are so many teen girls still getting pregnant?
At Seventeen we hear all the time from girls who say that they just "ended up having sex" and weren't prepared with birth control. Or they say that they didn't insist on using condoms because they felt awkward and embarrassed. Instead of protecting themselves, they risk getting pregnant and risk a future that won't turn out the way they had planned.
In a Seventeen /The Candie's Foundation Teen Pregnancy Survey earlier this year a whopping 70% of girls say that having a plan for their future would help prevent unplanned pregnancy. So we ran a contest asking girls to share the dreams that were helping prevent their unplanned pregnancy--their Plan A.
The winning girls made videos about winning an academy award and being a boxer. But they might just as well have made it about one day being the highest ranking woman in the U.S. government.
No matter how you feel about her politics, Sarah Palin is a shining example of the potential and power of women. And in one hot moment with her boyfriend, her daughter gave away her power to make the decisions about how she wanted her future to play out.
It's our responsibility to feed teen girls' dreams for the future and encourage them to be proactive in their destiny so they stop letting unplanned pregnancy "just happen."
Related
Popular in the Community