I don't want to contribute to the media frenzy surrounding Tareq and Michaele Salahi, Official White House Party Crashers, but in this day and digital age, I'm leaving no stone thrown at the Obamas unturned. Everyone is wondering: How did the Salahis get in? How could the secret service have been so careless with the guest list? How close did the couple get to the president? However, as an intrepid style writer and Washingtonistaholic, I am wondering: What was Michaele Salahi wearing?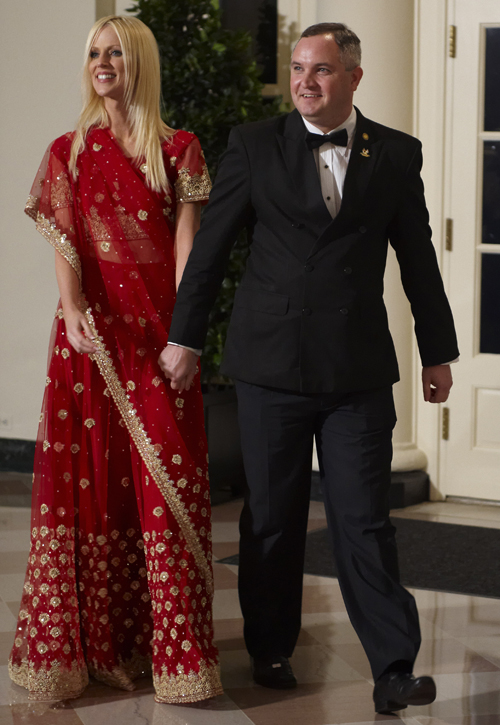 I somewhat understand the thought behind Michaele's ensemble: It's a State Dinner for India, so I'll wear a sari to blend in. Kind of like wearing camouflage to go hunting, or sticking oneself into seven-inch-tall stilettos and a tube top to get down at the club. Well, Michaele may have made it past security with the "When In Mumbai..." mentality, but, sari, I mean, sorry--she definitely didn't make it past me. I remember watching the arrivals, the stream of black and navy gowns punctuated with an occasional burst of color, and then noticing a grinning blond women wrapped in red-and-gold quickly shuffle by with some guy in a bow tie. I immediately called one of my friends to ask if she had seen that bad fashion decision in action! She responded, "Don't you have anything better to do, Hilary?," but I'm maintaining that that was Michaele's worst decision of the night, even taking into account the whole security breach thing.
Aside from the garment's too-bold color palette, her strangely mismatched make-up and her flat-ironed hair, Michaele apparently didn't get the style memo that Tuesday night wasn't the time nor the place to debut your first sari. Michelle Obama nodded to India by selecting an Indian-American designer. DC's First Lady Michelle Fenty looked stunning in a vibrant blue dress, embodying India's love of color. Nancy Pelosi chose a dark color, but spiced it up with sequins and beading. These, my friend Michaele, are tasteful ways to show up to an elegant, international event, much less one you may or may not have been invited to.
Anyway, if and when Michaele testifies at the House Homeland Security Committee's panel, I hope she doesn't show up with a face veil and lace gloves or pull any "Mistuh President"-type schtick. I also heard the Salahis are attempting to pitch their party-crashing story to several major networks. I just hope that includes a few makeover shows.
Popular in the Community