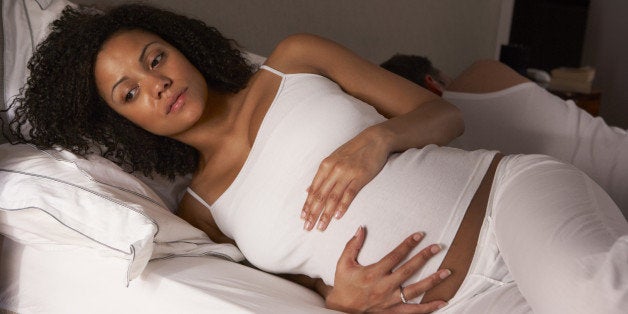 My defining moment came when I was faced with my own mortality -- at 36 years old. In April 2012, I was admitted into the hospital with a pulmonary embolism (PE). After a long day in the emergency room, doctors found multiple blood clots in both of my lungs. The clots had traveled to my lungs from my left leg.
I started having chest pain hours after I returned from a seven-day cruise and four-hour flight. I was still in pain the following day but went to work. That night, the pain had spread to my back and I couldn't sleep. The next morning, I not only had chest and back pain, I also had trouble breathing. I thought, "Am I having a heart attack?"
I'm the Director of Development at a nonprofit organization and responsible for raising money to achieve our mission, pay salaries, pay rent, etc. No money was raised the week I was away, so I took the train into Manhattan and tried to go to work. When I finally got to my stop, I could barely walk up the stairs. I didn't want to call out sick so I sent an email to my boss and coworkers to let them know I needed to stop by the hospital but would be in the office ASAP. I ended up staying in the hospital, though -- not only that night but for the rest of the week.
As I reflect on my PE experience, I believe the universe was trying to teach me:
The Importance of a Healthy, Purposeful Life:
Before my PE, I was both consumed and overwhelmed by work. At the same time, I really enjoy fundraising, so eating at my desk and working long hours was fine. My health scare provided the wake-up call I needed to recalculate my priorities. Since then, I have: (a) pursued another master's degree; (b) visited 3 countries that were on my bucket list; (c) begun eating better, working out, and dancing again; and (d) shown more gratitude towards family, friends and colleagues.
Beginning that day in April, the Universe put in motion a series of events and coincidences, which sped up my personal and professional growth, helped me make this year the most successful fundraising year for my organization, and even led to my being invited to write this post.
From left to right: Michelle Pullaro, Arianna Huffington and Samantha Erskine
Arianna Huffington wrote in her book, Thrive, that when we die, our eulogies celebrate our lives very differently from the way society defines "success." It memorializes what people remember about us and how we live on in the minds and hearts of our loved ones. I doubt my eulogy will say, "Samantha worked 12 hour days, raised $1.8 million, and pursued a second master's degree at night." I hope it will say something like, "Samantha was a beloved daughter, sorority sister, and friend who had a tremendous passion for life, courage and a big heart (if I get married and have children, then, loved ones, please add "wife and mother" to that sentence)."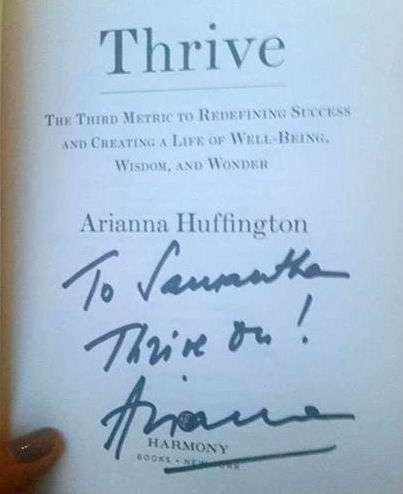 The Importance of Connecting:
In the hospital, the memories that stood out the most for me were the attentive nurses, and my family, friends, and colleagues who came to visit. They brought things I needed (e.g., real food, toiletries, and a cell phone charger), things I didn't realize I needed (like underwear!), and kept me company (it's lonely in hospitals). I'm grateful to every one of them.
After my PE, I began developing more meaningful, quality relationships -- including a deeper relationship my boss at the time, who, when I emailed her to let her know I was going to the hospital, told me to stop being a "drama queen." While her comment was shocking, I think my health scare improved our relationship. She came to check on me, brought me dinner and then breakfast the following morning. When I returned to the office, she continued to be supportive of my wellness and the time I needed for appointments with hematologists and phlebotomists.
I still don't know why I had a PE. Maybe, it was from 17 years of birth control use or long periods of sitting sedentarily at my desk or possibly genetics have something to do with it. I am still taking blood thinners, have chest pain, and see doctors regularly. When traveling, I have to take extra precautions: remembering to wear compression stockings, trying to walk up and down the aisle every hour, and exercising while sitting down. Additionally, I can never use birth control again and I have the most awful menstrual cycle that disrupts my life for an entire day.
With all that said, it's likely that none of us have as much time on this earth as we think we'll have, so we should make sure that we're all living the life we'd like to be living, now, before it's too late. I hope that my story helps others prioritize what really matters.
What was a defining moment in your life?
Related