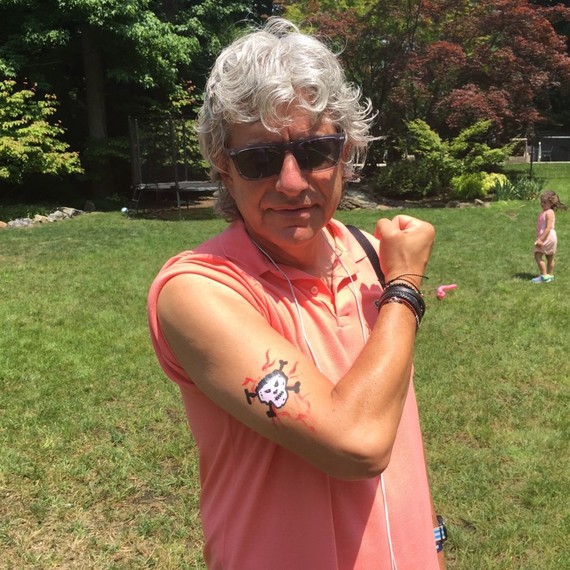 A Ramble for a Summer Sunday...
We just came back from our granddaughter's third birthday party -- and what a party it was!
Bouncing castle, trampoline, merry-go-round, face painting, or in my case, bicep -- hey! I'm in touch with my inner pirate fantasy -- balloon sculpture and general running-around-the-lawn fun.
Healthy snacks, lots of water, pizza and, of course, a birthday cake built out of cupcakes...smart and yummy!
Lots of family, lots of kids of various ages and their parents and, of course, a dutiful papa taking some pictures on his phone (and posting some), but many more on his SONY DSC-HX400V Digital SLR...highly recommended, BTW.
Yes, there was a theme: My Little Pony, a franchise still going strong, with an undercurrent of Enchanted and Minnie Mouse....
Why am I telling you all of this, beyond the boring prolonging of the ancient tradition of the slide show? "Let me show you our vacation/birthday party/first tooth lost"...you get the picture....
Bottom line, because there are lessons to be learned and I figure why waste a good party!
1. Digital is everything, but not everything is digital. -- You have heard this one from me before and will again, but here is another proof point - every parent had their mobile devices with them, and every kid there from 2 years and up was iPad savvy, but other than an occasional snapshot (not chat) the energy was all personal; "Facebook live," real and intimate.
2. Kids can have fun off-line. -- HELLO, fun beyond! Didn't hear one whine for an iPad or an app-based game; rather, they all stood on line to get painted; ran around the lawn and driveway; jumped like crazy in the castle and on the trampoline; and were mesmerized by the endless circle of the little musical merry-go-round.
3. The old is still powerful. -- 28 years ago I worked on My Little Pony and it's still going strong; the Disney Mouse franchise still resonates big time (we bought her a Minnie Mouse Bike and helmet, what she asked for); and animated "long-form" movies/premium video content with big feature songs still connect.
4. Generation World is a force to be reckoned with. -- Clearly, the grandchildren, children, parents and grandparents had way more in common than any spread of generations ever before. I say clearly because I was there, but I experience it all the time - from flying drones using iPad apps to reading real books with my grandkids...but don't just take my word for it, explore this one...it's big!
5. Real trumps all. -- I have no doubt that Oculus and such will change everything in our world -- much like gamification and virtual worlds before it -- sense the sarcasm? But here is the thing; don't bet against a bunch of people, of all ages, getting together and just having a real good time without anything more than themselves....
What did I take away? Yet another reminder that it's easy to get caught up in a 24/7, always on (for what?) the Digibabble world; and that in the end, most things are mere accoutrements...we, in fact, are the requisite beings.
The miracle is not to walk on water. The miracle is to walk on the green earth, dwelling deeply in the present moment and feeling truly alive. Thich Nhat Hanh
And there you have it: A Sunday Summer Ramble, lessons from a three-year-old's birthday -- and next year, I will get you invited.