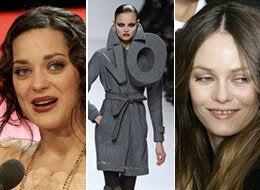 Ah, the allure of les femmes francaises. How do they do it? Here are some possible explanations.
1. They have a natural approach to beauty.
The more time I spent with French femmes, the more I realized they don't spend the inordinate amount of time grooming that American women do. Most let their hair air dry, wear little makeup, and skimp on hair removal. And honestly, they look better for it: more natural, more nonchalantly gorgeous....Americans make much of the sophistication of French women, but the truth is, when it comes to beauty, these swans are fairly rock 'n' roll. Yes, they eat sensibly (no snacking) and pay attention to their skin, but they also engage in a healthy abandon we sometimes lack.
2. Age doesn't get in the way of their sex lives.
Through our 40s, we American women manage to arrange romps on a fairly regular basis. But the latest national statistics show that by our 50s, a third of us haven't had sex in the last year. By our 60s, nearly half have gone sexless in the previous year. Once we hit our 70s, most of us might as well hang up an "out of business" sign. (Needless to say, men fare much better.)....But not in France. Frenchwomen simply don't suffer from the same dramatic, post-40s slide into sexual obsolescence. Just 15 percent of Frenchwomen in their 50s and 27 percent in their 60s haven't had any sex in the past year, according to a 2004 national survey by France's Regional Health Observatory. Another national survey being released next month will report that cohabiting Frenchwomen over 50 are having more sex now than they did in the early 1990s.
3. Their Vogue is more inventive.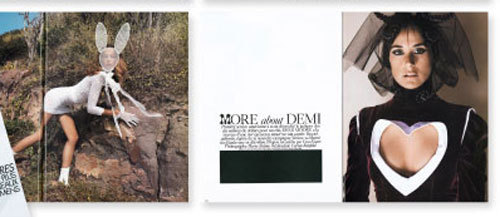 Would Americans pose Demi Moore, at right, like this? Didn't think so. (From Nymag.com)
"The American editors are very, how you say, slick," [Carine] Roitfeld says. "Very perfect. Hair is perfect, they have a manicure. They are very clean, they follow fashion. I don't think they take many risks. They do the total look of Prada. Me, I wear a lot of Japanese piece mixed with a bit of classic Hermès and Prada. Even though jeans suit me, I never wear jeans."
4. They're not afraid to have fun with fashion.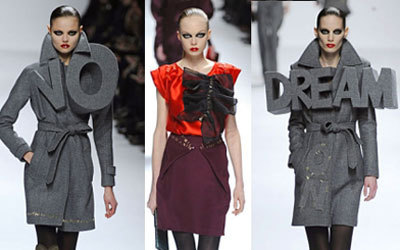 From the Viktor & Rolf show at Paris Fashion Week this week. Refinery29.com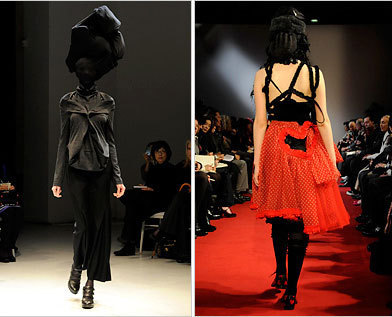 From Junya Watanabe and Comme des Garcons' shows. New York Times
Can you imagine these models walking down a New York runway? Neither can we.
5. And, yes, they know damn well how to not get fat.
When Mireille Guiliano first came to America as an exchange student, she gained weight for the first time in her life. Many years later, after becoming a CEO of Veuve Clicquot, she penned the buzzy No. 1 best-seller French Women Don't Get Fat, now out in paperback. After 25 years of splitting her time between New York and Paris, Guiliano is still amazed by the large portions here, and by the New Yorker's tendency to eat on the go. "To eat your bagel and your muffin with coffee on the subway is gross," she says. "How can you do it with the smell and the noise and the moving? I'd rather starve." She's also still shocked when she sees people eating on the street or standing up. "For French people, you're supposed to eat at the table. Besides the bed, it's the most important piece of furniture in the house."
Keep reading to find out what a week of eating entails for Ms. Guiliano.
Do you think French women are fabulous? Tell us below in comments.
Related