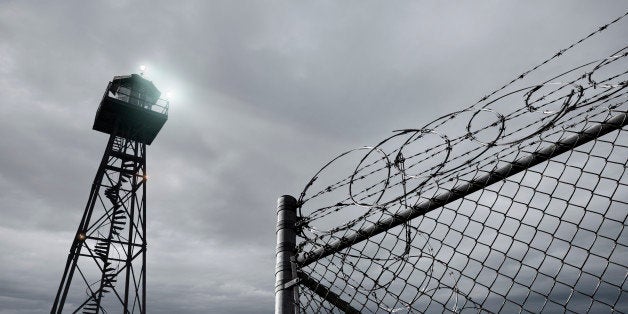 On Sunday, April 3, 60 Minutes will air a story on several U.S. delegations to German prisons by advocates, researchers and public officials that should be mandatory viewing for anyone who works in or cares about America's massive prison problem. In a country that has only a fraction of our incarceration rate, even Germany's deepest-end prisons are humane and decent in ways that, at least at present, are difficult to fathom in the U.S. context.
Inspired by these delegations, when I was working for Mayor Bill de Blasio's Office of Criminal Justice, I organized a study tour to one of the prisons they had visited -- the Neustrelitz Prison near Berlin, which houses adolescents and young adults.
The place couldn't have been more different than a U.S. prison or juvenile facility. In fact, it was a bit of both, because young people are allowed to be tried in Germany's juvenile courts up to age 21, unlike U.S. juvenile courts whose jurisdiction expires somewhere between ages 16 and 18, depending on the state.
The young people we met were all involved in programming from farming, to wood shop, to metal work, to in-depth therapy. The freedom of movement was extraordinary, with most youth sleeping in unlocked rooms at night and eventually going on home visits and transitioning out to daytime work, returning to the facility at night. Sentences were much shorter than those experienced by people locked up in the U.S., which partially explains why only 79 out of every 100,000 Germans are behind bars, compared to America's world-leading incarceration rate of 700 per 100,000.
The experience reminded me in many ways of the paradigm-shifting visit I took to the juvenile facilities run by the State of Missouri. Similar to Germany, young people were dressed in their own clothes (as were staff), youth retained personal belongings, and pictures of family members adorned their walls. Young people worked in the kitchen and helped with communal meals, having access to knives and other sharp utensils, just like the German youth did. This might not sound like much, but staff in U.S. prisons spend inordinate energy trying to keep sharp objects out of the hands of prisoners - often unsuccessfully.
The emphasis was on decency, humanity, and rehabilitation, with staff in both places overtly concerned with returning their charges to the community in better shape than when they arrived, rather than just counting heads and turning keys. By focusing on creating a humanizing environment, officials in both jurisdictions found they were able to provide safety for staff and prisoners.
Our delegation to Germany included the Commissioners of New York City's probation and juvenile justice agencies. It also included my wife and daughter who, when I ran juvenile corrections in Washington, D.C., had spent a lot of time in the Oak Hill Youth Center, the awful juvenile prison I was in charge of there.
When I told my wife I was writing this piece and asked what her impressions were of Neustrelitz, she remarked, "What struck me was that no one was trying to take the kids' dignity away from them. In Oak Hill, the rooms were bare, with no books or family pictures. The kids all wore the same drab uniforms. Staff were dressed like guards. It was as if the whole environment was designed to take away the kids' individuality and humanity."
Delegations of this sort can be viewed skeptically, with xenophobia and exceptionalism often rearing their ugly heads. The New York City study trip resulted in a snarky editorial in the New York Post; and staff in Washington often joked that these were "D.C. kids -- not Huck Finn."
But, as American policymakers are increasingly grappling with the negative consequences of mass incarceration, we must learn from foreign and local innovations that are watershed, rather than incremental, changes from our current destructive prison paradigm.
For example, following his visit to Neustrelitz, Connecticut Governor Dannel Malloy proposed a raft of reforms in his state. He is establishing a separate prison for young adults up to age 25 and has proposed to raise the age of his state's juvenile court to 21, which would make Connecticut the first state in the nation to do so.
Numerous D.C. staff and dignitaries visited Missouri and we hired former high-level Missouri staff to help inculcate our system with their level of decency and rehabilitative focus. With their help and using their example, we dramatically changed the way we did business in D.C., closing Oak Hill and replacing it with a much humane and rehabilitative environment.
What I learned from the Germans and Missourians is what America's penal system needs to absorb from examples of this sort. Once we return the humanity to our system and view those in it -- be they people who work in prison, or those incarcerated there -- as human beings and not just inmates or file numbers, we'll have taken an important step towards reducing mass incarceration and creating a system that matches our stated values as Americans.
Calling all HuffPost superfans!
Sign up for membership to become a founding member and help shape HuffPost's next chapter